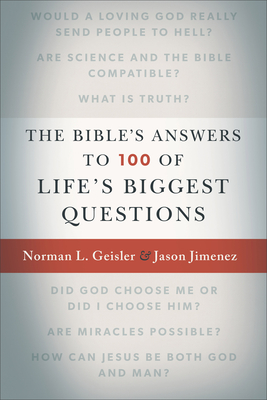 The Bible's Answers to 100 of Life's Biggest Questions
Paperback

* Individual store prices may vary.
Description
Every believer has questions about God, the Bible, Jesus, and the purpose and meaning of life. The vexing problem is that so few believers are able to answer even the most basic ones. Without answers, doubt creeps in and the future of the church is in jeopardy.

With insight and precision, Geisler and Jimenez address one hundred penetrating questions that the culture asks and Christians must be prepared to answer, including both controversial questions raging in the public sphere and personal questions about family issues, the purpose and meaning of life, and the future of the world. Christians from every walk of life, especially young believers, youth workers, and parents, will treasure this comprehensive resource. Foreword by Josh and Sean McDowell.
Baker Books, 9780801016943, 288pp.
Publication Date: January 20, 2015
About the Author
Norman L. Geisler (1932-2019) taught at top evangelical colleges and seminaries for over fifty years and was distinguished professor of apologetics and theology at Veritas Evangelical Seminary in Murrieta, California. He wrote nearly eighty books, including the Baker Encyclopedia of Christian Apologetics, Christian Ethics, and Systematic Theology.Jason Jimenez is founder and president of reshift ministries, inc., and has pastored families for over fifteen years. He is the author of The Raging War of Ideas and lives in Matthews, North Carolina.