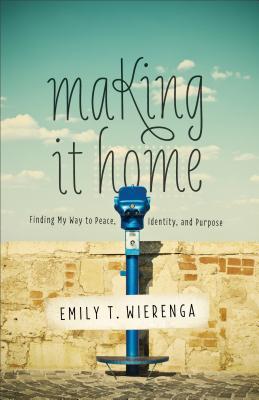 Making It Home
Paperback

* Individual store prices may vary.
Description
For women who have grown up in the tension between third-wave feminism and Martha Stewart, it can be a struggle to define and embrace the meaning of home. There is constant pressure to do things a certain way, and sometimes intense criticism from those who think you're doing it wrong. But what if home isn't really about whether or not you homeschool or have a career? What if it's more about who you are than what you do?
A self-proclaimed "former subversive," Emily T. Wierenga has learned the art of making a home and the joy of settling down. Emily takes readers on an unconventional journey through marriage, miscarriage, foster parenting, and the daily struggle of longing to be known, inviting them into a quest for identity in the midst of life's daily interruptions. Through soul-stirring writing, she helps women understand that homemaking is much more than old-fashioned tradition; rather, it's a timeless art requiring mind, body, and spirit.
Baker Books, 9780801016950, 224pp.
Publication Date: September 8, 2015
About the Author
Emily T. Wierenga is an award-winning journalist, columnist, artist, author, and blogger at www.emilywierenga.com. Her work has appeared in many publications, including "Relevant," "Charisma," "Desiring God," "The Gospel Coalition," "A Deeper Story," "Christianity Today," Dayspring's (in)courage, and "Focus on the Family." She speaks regularly about her journey with anorexia. She lives in Alberta, Canada, with her husband, Trenton, and their two sons.