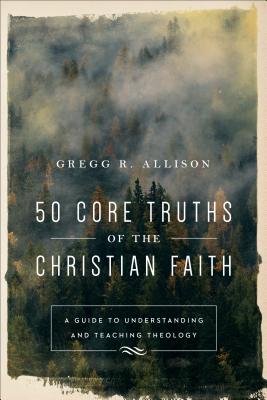 50 Core Truths of the Christian Faith (Paperback)
A Guide to Understanding and Teaching Theology
Baker Books, 9780801019128, 448pp.
Publication Date: February 6, 2018
* Individual store prices may vary.
Description
Those looking for a single resource that collects clear teachings on the most important doctrines of Christianity need look no further than Gregg Allison's 50 Core Truths of the Christian Faith. This volume covers foundational doctrines of the nature and works of God, the Bible, God's created beings, Jesus, the Holy Spirit, salvation, the church, and the end times. And each chapter features clear guidance for how to teach and apply the doctrine today. Pastors, Sunday school teachers, and lay students of theology will find this an indispensable resource for understanding and teaching Christian theology.
About the Author
Gregg R. Allison (PhD, Trinity Evangelical Divinity School) is professor of Christian theology at The Southern Baptist Theological Seminary. He is the author of many books, including The Baker Compact Dictionary of Theological Terms, Historical Theology: An Introduction to Christian Doctrine, and Sojourners and Strangers: The Doctrine of the Church. He serves as secretary of the Evangelical Theological Society and is a book review editor for the Journal of the Evangelical Theological Society. Gregg is also a pastor of Sojourn Community Church.