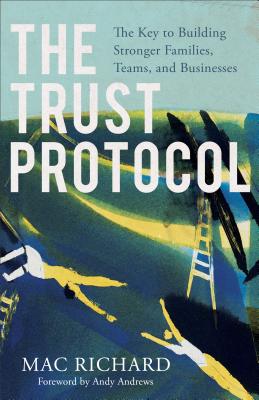 The Trust Protocol (Paperback)
The Key to Building Stronger Families, Teams, and Businesses
Baker Books, 9780801019647, 176pp.
Publication Date: November 7, 2017
* Individual store prices may vary.
Description
Trust makes everything better. It's the glue that binds people together. From our families and friendships to our companies and communities, we know that trust is the fuel that drives long-term success and impact. But we also know what betrayal feels like. We know that trust is a fragile, vulnerable gift that can be abused, broken, and exploited with devastating consequences.

In The Trust Protocol, Mac Richard challenges conventional wisdom with biblical insights, humor, and passion as he explains how to

- process the pain of betrayal
- prioritize relationships and work
- discern who to trust
- decide when and how to move on
- deploy trust in even the harshest environments
- develop active integrity

The Trust Protocol provides a clear path not just to manage these tensions but to embrace them in order to experience the genuine connectedness and effectiveness we're created for.
About the Author
Mac Richard is the founding pastor of Lake Hills Church in Austin, Texas. He and his wife, Julie, launched Lake Hills with a passion to redefine church for the city of Austin and beyond. Mac and Julie have two college-age kids, love any time they get to see them, and are thoroughly enjoying the empty nest years.