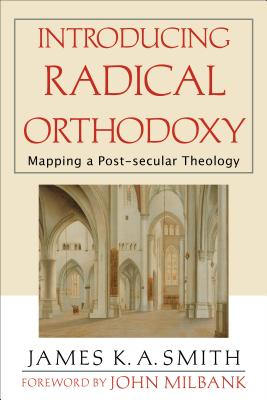 Introducing Radical Orthodoxy
Mapping a Post-Secular Theology
Paperback

* Individual store prices may vary.
Description
Although God is making a comeback in our society, popular culture still takes its orders from the Enlightenment, a movement that denied faith a prominent role in society. Today, many are questioning this elevation of reason over faith. How should Christians respond to a secular world that continues to push faith to the margins?

While there is still no consensus concerning what a postmodern society should look like, James K. A. Smith suggests that the answer is a reaffirmation of the belief that Jesus is Lord over all. Smith traces the trends and directions of Radical Orthodoxy, proposing that it can provide an old-but-new theology for a new generation of Christians. This book will challenge and encourage pastors and thoughtful laypeople interested in learning more about currents in contemporary theology.
Baker Academic, 9780801027352, 291pp.
Publication Date: December 1, 2004
About the Author
James K. A. Smith (Ph.D., Villanova University) is the Gary & Henrietta Byker Chair in Applied Reformed Theology & Worldview at Calvin College in Grand Rapids, Michigan. In addition, he is editor of Comment magazine and a senior fellow of the Colossian Forum. He formerly taught at Loyola Marymount University in Los Angeles. Active in both the church and the academy, Smith is the author of Speech and Theology (part of the Routledge Radical Orthodoxy series) and The Fall of Interpretation.