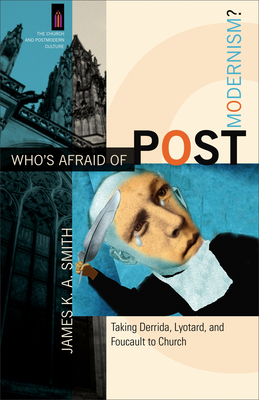 Who's Afraid of Postmodernism?
Taking Derrida, Lyotard, and Foucault to Church (Church and Postmodern Culture)
Paperback

* Individual store prices may vary.
Description
The philosophies of French thinkers Derrida, Lyotard, and Foucault form the basis for postmodern thought and are seemingly at odds with the Christian faith. However, James K. A. Smith claims that their ideas have been misinterpreted and actually have a deep affinity with central Christian claims.

Each chapter opens with an illustration from a recent movie and concludes with a case study considering recent developments in the church that have attempted to respond to the postmodern condition, such as the "emerging church" movement. These case studies provide a concrete picture of how postmodern ideas can influence the way Christians think and worship.

This significant book, winner of a Christianity Today 2007 Book Award, avoids philosophical jargon and offers fuller explanation where needed. It is the first book in the Church and Postmodern Culture series, which provides practical applications for Christians engaged in ministry in a postmodern world.
Baker Academic, 9780801029189, 160pp.
Publication Date: April 1, 2006
About the Author
James K. A. Smith (Ph.D., Villanova University) is the Gary & Henrietta Byker Chair in Applied Reformed Theology & Worldview at Calvin College in Grand Rapids, Michigan. In addition, he is editor of Comment magazine and a senior fellow of the Colossian Forum. He is the author of Introducing Radical Orthodoxy, coeditor of Radical Orthodoxy and the Reformed Tradition, and editor of the Church and Postmodern Culture series (www.churchandpomo.org).