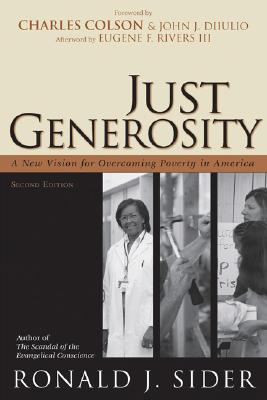 Just Generosity (Paperback)
A New Vision for Overcoming Poverty in America
Baker Books, 9780801066139, 345pp.
Publication Date: April 1, 2007
* Individual store prices may vary.
Description
Just Generosity calls Christians to examine their priorities and their pocketbooks in the face of a scandalous tendency to overlook those among us who suffer while we live in practical opulence. This holistic approach to helping the poor goes far beyond donating clothes or money, envisioning a world in which faith-based groups work with businesses, the media, and the government to help end poverty in the world's richest nation. This updated edition includes current statistics, policy recommendations, and discussions covering everything from welfare reform, changes to Medicade, and the Social Security debate. "Sider's most important book since Rich Christians in an Age of Hunger."--Jim Wallis, author, God's Politics "Sider knows how to lift up people in need.... An] important and challenging book."--John Ashcroft, former Attorney General of the United States.
About the Author
Ron Sider is the president of Evangelicals for Social Action and professor of theology, holistic ministry, and public policy at Palmer Theological Seminary. He is the author of more than twenty books, including the well-received The Scandal of the Evangelical Conscience and the bestselling Rich Christians in an Age of Hunger.