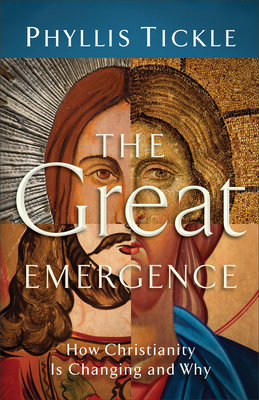 The Great Emergence
How Christianity Is Changing and Why
Paperback

* Individual store prices may vary.
Other Editions of This Title:
Hardcover (10/1/2008)
Compact Disc (10/1/2008)
Description
Rooted in the observation that massive transitions in the church happen about every 500 years, Phyllis Tickle shows readers that we live in such a time right now. She compares the Great Emergence to other "Greats" in the history of Christianity, including the Great Transformation (when God walked among us), the time of Gregory the Great, the Great Schism, and the Great Reformation.
Combining history, a look at the causes of social upheaval, and current events, The Great Emergence shows readers what the Great Emergence in church and culture is, how it came to be, and where it is going. Anyone who is interested in the future of the church in America, no matter what their personal affiliation, will find this book a fascinating exploration.
Study guide by Danielle Shroyer.
Baker Books, 9780801071027, 218pp.
Publication Date: September 1, 2012
About the Author
Phyllis Tickle, founding editor of the religion department at Publishers Weekly, is one of the most highly respected authorities and popular speakers on religion in America today. She is the author of more than two dozen books on the subject, including the recently published The Words of Jesus: A Gospel of the Sayings of Our Lord and The Divine Hours, a series of manuals for observing fixed-hour prayer. She is frequently quoted and interviewed in such media outlets as The New York Times, USA Today, Newsweek, Time, CNN, C-SPAN, and PBS. A lector and lay eucharistic minister in the Episcopal Church, Tickle is a senior fellow of the Cathedral College of Washington National Cathedral. She makes her home on a small farm in Lucy, Tennessee. For more in formation, go to www.phyllistickle.com or www.thegreatemergence.com.