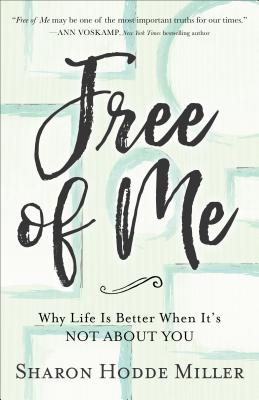 Free of Me (Paperback)
Why Life Is Better When It's Not about You
Baker Books, 9780801075230, 208pp.
Publication Date: October 3, 2017
Other Editions of This Title:
Other (2/5/2019)
* Individual store prices may vary.
Description
We live in a culture that's all about self, becoming the best "me" I can be instead of becoming like Jesus. This me-centered message affects every area of our lives--our friendships, our marriages, even our faith--and it breaks each one in different ways. The self-focused life robs our joy, shrinks our souls, and is the reason we never quite break free of insecurity.

In this book, Sharon Hodde Miller invites us into a bigger, Jesus-centered vision--one that restores our freedom and inspires us to live for more. She helps readers
- identify the secret source of insecurity
- understand how self-focus sabotages seven areas of our lives
- learn four practical steps for focusing on God and others
- experience freedom from the burden of self-focus

Anyone yearning for a purpose bigger than "project me" will cherish this paradigm-shifting message of true fulfillment.
About the Author
Sharon Hodde Miller is a pastor's wife and a mother to two small boys. In addition to earning her PhD, Sharon has blogged at SheWorships.com for nearly ten years, making God's Word accessible to women everywhere. She has been a regular contributor to Propel and Her.meneutics, and has written for Relevant, Christianity Today, (in)courage, She Reads Truth, and many other publications and blogs. She speaks regularly on topics ranging from leadership to body image to Scripture. She lives with her family in the Raleigh/Durham area.