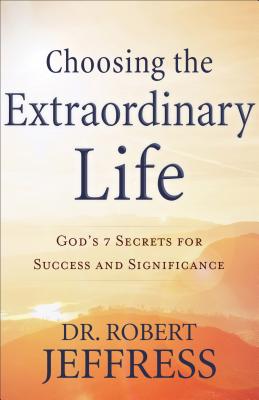 Choosing the Extraordinary Life (Hardcover)
God's 7 Secrets for Success and Significance
Baker Books, 9780801075384, 240pp.
Publication Date: September 4, 2018
Other Editions of This Title:
Paperback (9/17/2019)
* Individual store prices may vary.
Description
Too many of us settle for a listless life of mundane routine. We long to discover a greater purpose for our lives, but we don't know how. Dr. Robert Jeffress has an encouraging message for people looking for something more. God not only wants us to enjoy an extraordinary life, he has provided a roadmap for doing so. In this inspiring and motivating book, Dr. Jeffress reveals seven secrets from Elijah that result in a life marked by significance, satisfaction, and success, including - discovering your unique purpose in life
- waiting on God's timing
- learning how to handle bad days
- and more For the overworked parent feeling trapped at home, the businessperson feeling unfulfilled in a stagnant career, the Christian worker ministering in obscurity--for anyone who wonders if there's more to life--God's Word reveals seven secrets for experiencing a truly extraordinary life.
About the Author
Dr. Robert Jeffress is senior pastor of the 13,000-member First Baptist Church in Dallas, Texas, and is a Fox News contributor. His daily radio program, Pathway to Victory, is heard on more than 900 stations nationwide, and his weekly television program is seen on thousands of cable systems and stations in the United States and in 195 countries around the world. Known for his bold, biblical stands on cultural issues, Jeffress has been interviewed on more than 2,000 radio and TV programs, including Good Morning America, CBS This Morning, Fox & Friends, MSNBC, CNN, Real Time with Bill Maher, and Hardball with Chris Matthews. He is the author of Not All Roads Lead to Heaven and A Place Called Heaven and lives in Dallas.