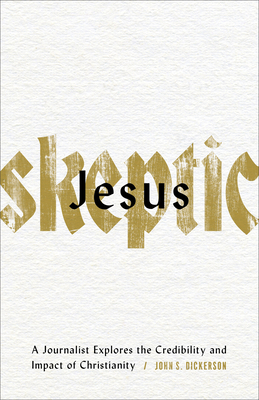 Jesus Skeptic (Paperback)
A Journalist Explores the Credibility and Impact of Christianity
Baker Books, 9780801078088, 304pp.
Publication Date: October 15, 2019
* Individual store prices may vary.
Description
Can we know if Jesus actually lived? Have Jesus's followers been a force for good or evil in history? A respected journalist set out to find the answers--not from opinion but from artifacts. The evidence led him to an unexpected conclusion: Jesus really existed and launched the greatest movement for social good in human history.

A first-of-its-kind book for a new generation, Jesus Skeptic takes nothing for granted as it explores whether Jesus actually lived and how his story has changed our world. You'll

- learn what heroes like Martin Luther King Jr. and Harriet Tubman believed about Jesus
- discover how Jesus inspired women's rights, education rights, and modern hospitals
- see visual proofs of Jesus's impact, never before compiled in one place
- be inspired to continue Jesus's fight for human rights, justice, and progress

Jesus Skeptic unveils convincing physical evidence that will enlighten seekers, skeptics, and longtime Christians alike. In a generation that wants to make the world a better place, we can discover what humanity's greatest champions had in common: a Christian faith.
About the Author
John S. Dickerson is a respected journalist, a Millennial, and a bestselling author. His writing has appeared in the New York Times and USA Today and has earned dozens of honors, including the Livingston Award for Young Journalists, given by Tom Brokaw of NBC News and Christiane Amanpour of CNN and ABC News. Now convinced that Jesus launched the greatest movement for social good, John has given his life to join the cause. Today he serves as Lead Pastor at Connection Pointe Christian Church in Indianapolis. Learn more at JohnSDickerson.com.