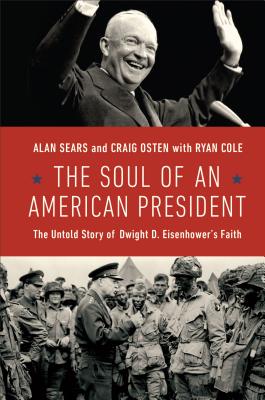 The Soul of an American President (Hardcover)
The Untold Story of Dwight D. Eisenhower's Faith
Baker Books, 9780801093869, 240pp.
Publication Date: June 4, 2019
* Individual store prices may vary.
Description
While there have been many biographies of Dwight D. Eisenhower that focus on his military career or the time of his presidency, none clearly explores the important role faith played both in his personal life and in his public policy. This despite the fact that he is the only US president to be baptized as a Christian while in office. Alan Sears and Craig Osten invite you on a journey that is unique in American history and is essential to understanding one of the most consequential, admired, and complex Americans of the 20th Century. The story begins in abject poverty in rural Texas, then travels through Kansas, West Point, two World Wars, and down Pennsylvania Avenue. This is the untold story of a man whose growing faith sustained him through the loss of a young son, marital difficulties, depression, career disappointments, and being witness to some of the worst atrocities humankind has devised. A man whose faith was based in his own sincere personal conviction, not out of a sense of political expediency or social obligation. You've met Dwight Eisenhower the soldier and Dwight Eisenhower the president. Now meet Dwight Eisenhower the man of faith.
About the Author
Alan Sears is an ardent student of history and the founder of Alliance Defending Freedom (ADF), which he led as president, CEO, and general counsel for 23 years. Under his leadership, ADF and its allied attorneys--which now number more than 3,000 in 44 nations--played important roles in more than 50 victories at the US Supreme Court and 17 victories at the European Court of Human Rights. Sears served in numerous positions within the Reagan and Bush administrations. He has been profiled by the New York Times, the Washington Post, the National Catholic Register, and more.Craig Osten serves as senior director of research and grant writing for Alliance Defending Freedom. Like Alan, he has been an ardent student of history from an early age. He has more than 30 years of experience providing writing and research expertise on more than one dozen books for bestselling authors such as Alan Sears, Tim Goeglein, Dr. James Dobson, and Dr. Wayne Grudem, among others. Before coming to ADF, he worked as a political reporter in Sacramento, California, created and managed the public policy constituent response division at Focus on the Family, and served as research assistant to Dr. James Dobson. Ryan Cole holds degrees in history and journalism from Indiana University and has written extensively about American history and literature for the Wall Street Journal, National Review, the Weekly Standard, the New Criterion, Civil War Times, the Washington Times, the American Interest, and the Indianapolis Star.