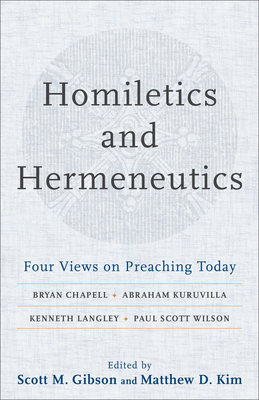 Homiletics and Hermeneutics (Paperback)
Four Views on Preaching Today
Baker Academic, 9780801098697, 192pp.
Publication Date: December 4, 2018
* Individual store prices may vary.
Description
Scott Gibson and Matthew Kim, both experienced preachers and teachers, have brought together four preaching experts--Bryan Chapell, Kenneth Langley, Abraham Kuruvilla, and Paul Scott Wilson--to present and defend their approaches to homiletics. Reflecting current streams of thought in homiletics, the book offers a robust discussion of theological and hermeneutical approaches to preaching and encourages pastors and ministry students to learn about preaching from other theological traditions. It also includes discussion questions for direct application to one's preaching.
About the Author
Scott M. Gibson (DPhil, University of Oxford) is the David E. Garland Chair of Preaching and director of the PhD program in preaching at George W. Truett Theological Seminary, Baylor University, in Waco, Texas. He previously served as the Haddon W. Robinson Professor of Preaching and Ministry and director of the Center for Preaching at Gordon-Conwell Theological Seminary.Matthew D. Kim (PhD, University of Edinburgh) is associate professor of preaching and ministry at Gordon-Conwell.