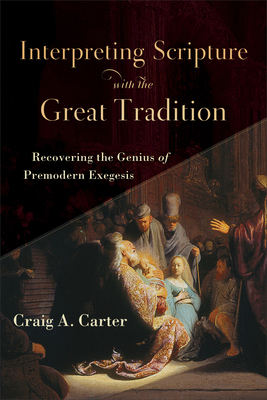 Interpreting Scripture with the Great Tradition (Paperback)
Recovering the Genius of Premodern Exegesis
Baker Academic, 9780801098727, 304pp.
Publication Date: April 17, 2018
* Individual store prices may vary.
Description
The rise of modernity, especially the European Enlightenment and its aftermath, has negatively impacted the way we understand the nature and interpretation of Christian Scripture. In this introduction to biblical interpretation, Craig Carter evaluates the problems of post-Enlightenment hermeneutics and offers an alternative approach: exegesis in harmony with the Great Tradition. Carter argues for the validity of patristic christological exegesis, showing that we must recover the Nicene theological tradition as the context for contemporary exegesis, and seeks to root both the nature and interpretation of Scripture firmly in trinitarian orthodoxy.
About the Author
Craig A. Carter (PhD, University of St. Michael's College) is professor of theology at Tyndale University College and Seminary in Toronto, Ontario, and is the author of Rethinking "Christ and Culture." He previously served as vice president and academic dean at Crandall University and at Tyndale University College.