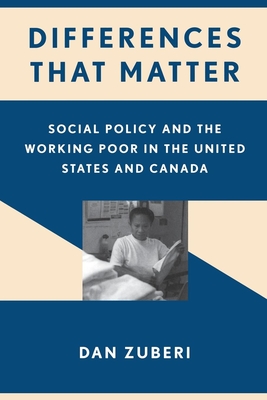 Differences That Matter (Hardcover)
Social Policy and the Working Poor in the United States and Canada
ILR Press, 9780801444074, 230pp.
Publication Date: April 25, 2006
Other Editions of This Title:
Paperback (4/20/2006)
* Individual store prices may vary.
Description
This book shines a spotlight on the causes and consequences of working poverty, revealing how the lives of low-wage workers are affected by differences in health care, labor, and social welfare policy in the United States and Canada. Dan Zuberi's conclusions are based on survey data, eighteen months of participant observation fieldwork, and in-depth interviews with seventy-seven hotel employees working in parallel jobs on both sides of the border. Two hotel chains, each with one union and one non-union hotel in Seattle and Vancouver, provide a vivid crossnational comparison because they are similar in so many regards, the one major exception being government policy.Zuberi demonstrates how labor, health, social welfare, and public investment policy affect these hotel workers and their families. His book challenges the myth that globalization necessarily means hospitality jobs must be insecure and pay poverty wages and makes clear the critical role played by government policy in the reduction of poverty and creation of economic equality. Zuberi shows exactly where and how the social policies that distinguish the Canadian welfare state from the U.S. version make a difference in protecting Canadian workers from the hardships that burden low-wage workers in the United States. Differences That Matter, which is filled with first-person accounts, ends with policy recommendations and a call for grassroots community organizing.
About the Author
Dan Zuberi is Assistant Professor of Sociology in the Department of Anthropology and Sociology at the University of British Columbia.