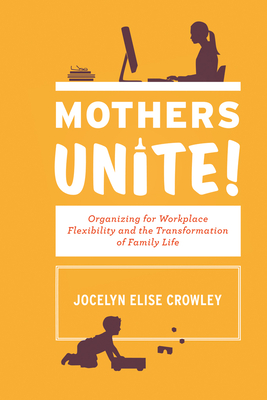 Mothers Unite!
Hardcover

* Individual store prices may vary.
Description
In Mothers Unite , a bold and hopeful new rallying cry for changing the relationship between home and the workplace, Jocelyn Elise Crowley envisions a genuine, universal world of workplace flexibility that helps mothers who stay at home, those who work part time, and those who work full time balance their commitments to their jobs and their families. Achieving this goal, she argues, will require a broad-based movement that harnesses the energy of existing organizations of mothers that already support workplace flexibility in their own ways.Crowley examines the efforts of five diverse national mothers' organizations: Mocha Moms, which aims to assist mothers of color; Mothers of Preschoolers (MOPS), which stresses the promotion of Christian values; Mothers & More, which emphasizes support for those moving in and out of the paid workforce; MomsRising, which focuses on online political advocacy; and the National Association of Mothers' Centers (NAMC), which highlights community-based networking. After providing an engaging and detailed account of the history, membership profiles, strategies, and successes of each of these organizations, Crowley suggests actions that will allow greater workplace flexibility to become a viable reality and points to many opportunities to promote intergroup mobilization and unite mothers once and for all.
ILR Press, 9780801451751, 227pp.
Publication Date: June 15, 2013
About the Author
Jocelyn Elise Crowley is Professor of Public Policy at the Edward J. Bloustein School of Planning and Public Policy at Rutgers, The State University of New Jersey, as well as a member of the Graduate Faculty in the Department of Political Science and Affiliated Faculty Member of the Department of Women's and Gender Studies. She is the author of Defiant Dads: Fathers' Rights Activists in America, also from Cornell, and The Politics of Child Support in America. Visit her website at jocelyncrowley.com.