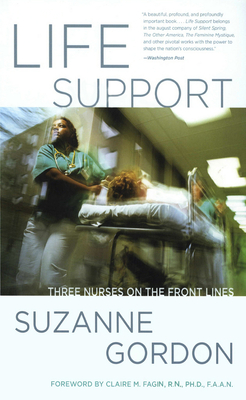 Life Support
Three Nurses on the Front Lines (Culture and Politics of Health Care Work)
Paperback

* Individual store prices may vary.
Description
In this book, Suzanne Gordon describes the everyday work of three RNs in Boston--a nurse practitioner, an oncology nurse, and a clinical nurse specialist on a medical unit. At a time when nursing is often undervalued and nurses themselves in short supply, Life Support provides a vivid, engaging, and intimate portrait of health care's largest profession and the important role it plays in patients' lives.
Life Support is essential reading for working nurses, nursing students, and anyone considering a career in nursing as well as for physicians and health policy makers seeking a better understanding of what nurses do and why we need them. For the Cornell edition of this landmark work, Gordon has written a new introduction that describes the current nursing crisis and its impact on bedside nurses like those she profiled in the book.
ILR Press, 9780801474286, 368pp.
Publication Date: November 15, 2007
About the Author
Suzanne Gordon is an award-winning journalist. She is Visiting Professor at the University of Maryland School of Nursing and Assistant Adjunct Professor at the University of California, San Francisco, School of Nursing. She is the author of Nursing against the Odds, the coauthor of From Silence to Voice, and the coeditor of The Complexities of Care, all from Cornell. Claire Fagin is Leadership Professor Emerita, Dean Emerita and Interim President Emerita at the University of Pennsylvania.