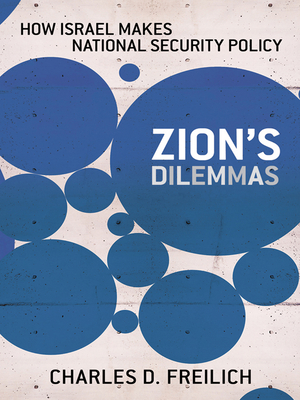 Zion's Dilemmas
How Israel Makes National Security Policy (Cornell Studies in Security Affairs)
Paperback

* Individual store prices may vary.
Other Editions of This Title:
Hardcover (9/28/2012)
Description
In Zion's Dilemmas, a former deputy national security adviser to the State of Israel details the history and, in many cases, the chronic inadequacies in the making of Israeli national security policy. Chuck Freilich identifies profound, ongoing problems that he ascribes to a series of factors: a hostile and highly volatile regional environment, Israel's proportional representation electoral system, and structural peculiarities of the Israeli government and bureaucracy.Freilich uses his insider understanding and substantial archival and interview research to describe how Israel has made strategic decisions and to present a first of its kind model of national security decision-making in Israel. He analyzes the major events of the last thirty years, from Camp David I to the 1982 invasion of Lebanon, through Camp David II, the Gaza Disengagement Plan of 2005, and the second Lebanon war of 2006.In these and other cases he identifies opportunities forgone, failures that resulted from a flawed decision-making process, and the entanglement of Israeli leaders in an inconsistent, highly politicized, and sometimes improvisational planning process. The cabinet is dysfunctional and Israel does not have an effective statutory forum for its decision-making--most of which is thus conducted in informal settings. In many cases policy objectives and options are poorly formulated. For all these problems, however, the Israeli decision-making process does have some strengths, among them the ability to make rapid and flexible responses, generally pragmatic decision-making, effective planning within the defense establishment, and the skills and motivation of those involved. Freilich concludes with cogent and timely recommendations for reform.
Cornell University Press, 9780801479762, 336pp.
Publication Date: July 2, 2014
About the Author
Charles D. (Chuck) Freilich is a Senior Fellow at the Belfer Center, Harvard Kennedy School and teaches political science at Harvard, Tel Aviv University, and elsewhere. Prior to serving as deputy national security advisor, he was a senior analyst in the Israeli Ministry of Defense. Freilich is the author of numerous op-eds, appears regularly in American, Israeli, and international media, and speaks widely on Middle Eastern issues.