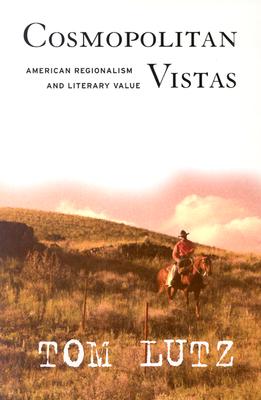 Cosmopolitan Vistas
American Regionalism and Literary Value
Paperback

* Individual store prices may vary.
Other Editions of This Title:
Hardcover (5/18/2004)
Description
In a major statement on the relation of art and politics in America, Tom Lutz identifies a consistent ethos at the heart of American literary culture for the past 150 years. Through readings of Sherwood Anderson, Willa Cather, Hamlin Garland, Ellen Glasgow, Sarah Orne Jewett, Sinclair Lewis, Edgar Lee Masters, Claude McKay, Edith Wharton, Anzia Yezierska, and others, Lutz identifies what he calls literary cosmopolitanism: an ethos of representational inclusiveness, of the widest possible affiliation, and at the same time one of aesthetic discrimination, and therefore exclusivity.At the same time that it embraces the entire world, in Lutz's view, literary cosmopolitanism necessitates an evaluative stance, and it is this doubleness, this combination of egalitarianism and elitism, that animates American literature since the Civil War. The nineteenth century's realists and sentimentalists, the writers of the Harlem Renaissance and of the Southern Renaissance, the firebrands who brought in the new canon and the traditionalists who struggled to save the old all ascribe, Lutz argues, to the same cosmopolitan values, however much they disagree on what these values demand of those who hold them.
Cornell University Press, 9780801489235, 240pp.
Publication Date: May 18, 2004
About the Author
Tom Lutz is Director of the MFA Program in Critical and Creative Writing and Visiting Professor at the School of Critical Studies at the California Institute of the Arts and Professor at the University of Iowa. His books include American Nervousness, 1903: An Anecdotal History (also from Cornell), Doing Nothing: A History of Loafers, Loungers, Slackers, and Bums, and Crying: The Natural and Cultural History of Tears.