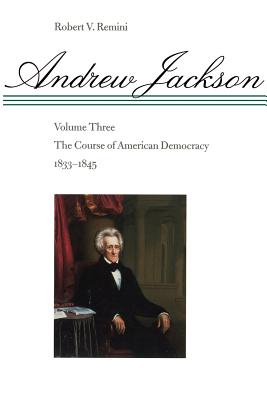 The Course of American Democracy, 1833-1845 (Andrew Jackson #3)
Paperback

* Individual store prices may vary.
Description
Available in paperback for the first time, these three volumes represent the definitive biography of Andrew Jackson. Volume One covers the role Jackson played in America's territorial expansion, bringing to life a complex character who has often been seen simply as a rough-hewn country general. Volume Two traces Jackson's senatorial career, his presidential campaigns, and his first administration as President. Volume Three covers Jackson's reelection to the presidency and the weighty issues with which he was faced: the nullification crisis, the tragic removal of the Indians beyond the Mississippi River, the mounting violence throughout the country over slavery, and the tortuous efforts to win the annexation of Texas.
Johns Hopkins University Press, 9780801859137, 672pp.
Publication Date: April 10, 1998
About the Author
Robert V. Remini is professor emeritus of history and the humanities at the Univeristy of Illinois at Chicago. The New York Times has called him the foremost Jacksonian scholar of our time. He is the author of many books, including biographies of Daniel Webster and Henry Clay.