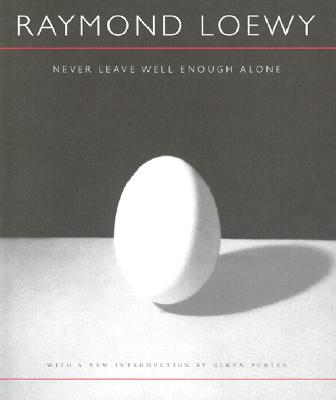 Never Leave Well Enough Alone
Hardcover

* Individual store prices may vary.
Description
Between the 1930s and the 1960s, Raymond Loewy's streamlined designs for thousands of consumer goods--everything from toasters and refrigerators to automobiles and ocean liners--radically changed the look of American life. Regarded as the father of modern industrial design, he appeared on the cover of Time in 1949; in 1990, he was selected as one of Life's "100 Most Important Americans of the 20th Century." Whether they realized it or not, Americans at mid-century lived in a Loewy-designed world, from the cigarettes they smoked (Lucky Strike's packaging), the soda they drank (the restaurant Coca-Cola dispenser), the toothpaste they used (Pepsodent's toothpaste tube), the cars they drove (his organization was Studebaker's design and styling department), the buses (Greyhound) and trains (the Pennsylvania Railroad) in which they rode, and the department stores (Gimbel's, Foley's, and Lord & Taylor) and grocery stores (Lucky) where they shopped.
Never Leave Well Enough Alone was first published in 1951 at the height of Loewy's career. His company, Raymond Loewy Associates, served as design consultants to more than a hundred of the world's largest corporations, and products manufactured to their specifications sold in excess of $3 billion annually. Written and designed by Loewy, this profusely illustrated book is part autobiography and part design manifesto. Acclaimed for its wit, its idiosyncracies, and its insight into the Loewy aesthetic, this volume stands as a remarkable document of the American Century and a still-vital meditation upon the importance of industrial design in daily life.
Johns Hopkins University Press, 9780801872112, 488pp.
Publication Date: December 31, 2002
About the Author
Raymond Loewy (1893-1986) was born in France and came to America in 1919. After dressing department store windows and illustrating fashion magazines, he established his own design firm in 1930 and worked as an industrial designer into his eighties. Glenn Porter is director of the Hagley Museum and Library in Wilmington, Delaware, and author of The Rise of Big Business, 1860-1920.
or
Not Currently Available for Direct Purchase