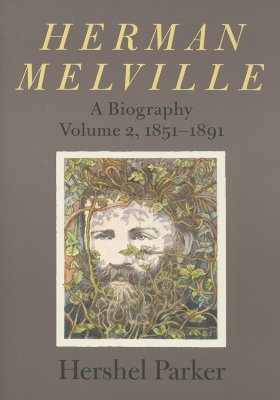 Herman Melville
A Biography
Paperback

* Individual store prices may vary.
Other Editions of This Title:
Paperback (8/19/2005)
Description
The first volume of Hershel Parker's definitive biography of Herman Melville--a finalist for the 1997 Pulitzer Prize--closed on a mid-November day in 1851. In the dining room of the Little Red Inn in Lenox, Massachusetts, Melville had just presented an inscribed copy of his new novel, Moby-Dick, to his intimate friend, Nathaniel Hawthorne, the man to whom the work was dedicated. "Take it all in all," Parker concluded, "this was the happiest day of Melville's life."
Herman Melville: A Biography, Volume 2, 1851-1891 chronicles Melville's life in rich detail, from this ecstatic moment to his death, in obscurity, forty years later. Parker describes the malignity of reviewers and sheer bad luck that doomed Moby-Dick to failure (and its author to prolonged indebtedness), the savage reviews he received for his next book Pierre, and his inability to have the novel The Isle of the Cross--now lost--published at all. Melville turned to magazine fiction, writing the now-classic "Bartleby" and "Benito Cereno," and produced a final novel, The Confidence Man, a mordant satire of American optimism. Over his last three decades, while working as a customs inspector in Manhattan, Melville painstakingly remade himself as a poet, crafting the centennial epic Clarel, in which he sorted out his complex feelings for Hawthorne, and the masterful story "Billy Budd," originally written as a prose headnote to an unfinished poem.
Through prodigious archival research into hundreds of family letters and diary entries, newly discovered newspaper articles, and marginalia from books that Melville owned, Parker vividly recreates the last four decades of Melville's life, episode after episode unknown to previous biographers. The concluding volume of Herman Melville: A Biography confirms Hershel Parker's position as the world's leading Melville scholar, demonstrating his unrivaled biographical, literary, and historical imagination and providing a rich new portrait of a great--and profoundly American--artist.
Johns Hopkins University Press, 9780801881862, 997pp.
Publication Date: August 19, 2005
About the Author
Hershel Parker is the author of Flawed Texts and Verbal Icons and Reading "Billy Budd"; co-editor, with Harrison Hayford, of the landmark 1967 Norton Critical Edition of Moby-Dick, wholly revised in 2001; and Associate General Editor of the Northwestern-Newberry edition of The Writings of Herman Melville. He lives in Morro Bay, California.
or
Not Currently Available for Direct Purchase