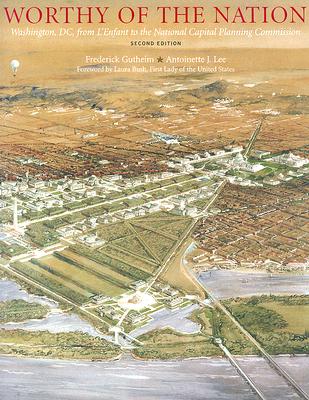 Worthy of the Nation: Washington, DC, from L'Enfant to the National Capital Planning Commission (Hardcover)
Washington, DC, from L'Enfant to the National Capital Planning Commission
Johns Hopkins University Press, 9780801883286, 430pp.
Publication Date: November 1, 2006
* Individual store prices may vary.
or
Not Currently Available for Direct Purchase
Description
When Worthy of the Nation first appeared in 1977, it won much acclaim for its comprehensive treatment of Washington's design and urban development. Now the story has been brought up to the present, tracing the first thirty years of home rule for the District through the completion of the National Museum of the American Indian and the World War II Memorial in the early twenty-first century.
Frederick Gutheim and Antoinette J. Lee begin with L'Enfant's survey of 1791, the uneven growth of Washington City as an early port, its rapid expansion during the Civil War, and the McMillan Plan of 1901-1902, inspired by the City Beautiful movement. They consider the close relationship between the growth in national ambitions and responsibilities and the density of the governmental presence--offices, facilities, military outposts, parks, and multiplying statuary and memorials. Gutheim and Lee also survey residential communities, commercial districts, and transportation infrastructure. They outline various efforts to shape and channel the phenomenal growth of the city during the twentieth century, including controversial attempts to rehabilitate some neighborhoods while largely destroying others in the name of urban renewal.
Illustrated with plans, maps, and new and historic photographs, the second edition of Worthy of the Nation provides researchers and general readers with an appealing and authoritative view of the planning and evolution of the federal district.
About the Author
Frederick Gutheim (1908-1993) was a planner, urban historian, architecture critic, and lifelong Washingtonian. Antoinette J. Lee is a historian of Washington, DC, and its environs.
Advertisement