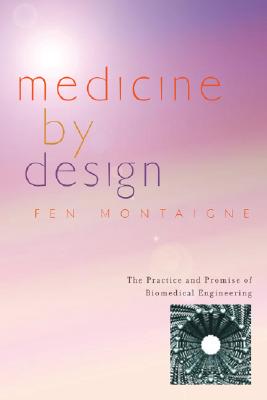 Medicine by Design
The Practice and Promise of Biomedical Engineering
Hardcover

* Individual store prices may vary.
Description
A heart that once beat erratically has regained its natural rhythm. A woman paralyzed by an automobile accident is now able to resume her favorite hobby. Physicians using a robotic surgeon named da Vinci perform lifesaving operations. These are some of the feats of biomedical engineering, one of the fastest-moving areas in medicine. In this exhilarating book, award-winning writer Fen Montaigne journeys through this little-known world, sharing the stories of ordinary people who have been transformed by technology.
From the almost commonplace pacemaker to the latest generation of artificial hearts, Montaigne tells the stories of pioneering patients, engineers, and surgeons. Taking the reader behind the scenes of a dozen of America's leading centers of biomedical engineering, Montaigne recounts the field's history while describing cutting-edge work in medical imaging, orthopedics, cardiovascular care, neurological therapies, and genetics.
Through the stories of patients whose lives have been saved and improved by biomedical devices, Montaigne reveals the marriage of medicine and engineering to be one of society's greatest advances.
Johns Hopkins University Press, 9780801883477, 248pp.
Publication Date: May 1, 2006
About the Author
Fen Montaigne is a freelance writer who often contributes to National Geographic. His previous books include Surviving Galeras (Houghton Mifflin, 2001), Reeling in Russia (St. Martin's, 1998), and The First Directorate (St. Martin's, 1994).
or
Not Currently Available for Direct Purchase