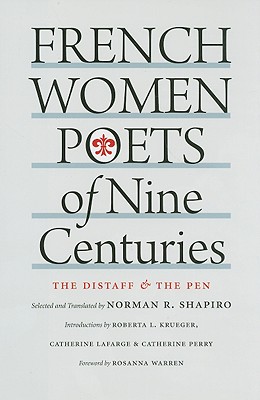 French Women Poets of Nine Centuries: The Distaff & the Pen (Hardcover)
The Distaff & the Pen
Johns Hopkins University Press, 9780801888045, 1182pp.
Publication Date: August 1, 2008
* Individual store prices may vary.
or
Not Currently Available for Direct Purchase
Description
Unprecedented in scope and depth, this tour de force collection of poetry by French-speaking women contains over 600 poems from 56 different pens, from the twelfth-century Anglo-Norman Marie de France through such noted poets of the past century as Lucienne Desnoues, Liliane Wouters, and Albertine Sarrazin. Through artful, careful translations that remain true to the authors' voices, style, and artistic integrity, Norman R. Shapiro provides an exceptional window into the development and evolution of French poetry from the Middle Ages up to the present.
Original texts and translations are presented on facing pages, allowing readers to appreciate the vigor and variety of the French and the fidelity of the English versions. Divided into three chronological sections spanning the Middle Ages through the sixteenth century, the seventeenth and eighteenth centuries, and the nineteenth and twentieth centuries, the volume includes introductory essays by noted scholars of each era's poetry along with biographical sketches and bibliographical references for each poet.
This bilingual panorama is an essential addition to the libraries of all scholars and readers of poetry, French, literature, and--especially--women's writing. It will also interest students of the art and craft of literary translation.
Featuring the poetry of: Louise Ackermann, Victoire Babois, Natalie Clifford Barney, Fanny de Beauharnais, Catherine Bernard, Castelloza, Elisabeth-Sophie Cheron, Christine de Pizan, Gabrielle de Coignard, Louise Colet, Marie Dauguet, Lise Deharme, Lucie Delarue-Mardrus, Marceline Desbordes-Valmore, Antoinette Deshoulieres, Lucienne Desnoues, Catherine des Roches, Madeleine des Roches, Stephanie-Felicite de Genlis, Rosemonde Gerard, Delphine Gay de Girardin, Elisabeth Guibert, Pernette du Guillet, Henriette de Coligny de La Suze, Gerard d'Houville, Jeanne d'Albret, Marie-Madeleine Joliveau de Segrais, Anne-Marie Kegels, Louise Labe, Marie-Amable de La Ferandiere, Madeleine de l'Aubespine, Marguerite de Navarre, Marie de Cleves, Marie de France, Anne de Marquets, Elisa Mercoeur, Louise Michel, Marie-Emilie Maryon de Montanclos, Amelie Murat, Marie Nizet, Anna de Noailles, Marie Pape-Carpantier, Louisa Paulin, Cecile Perin, Marie de Romieu, Louise-Genevieve Gillot de Sainctonge, Albertine Sarrazin, Cecile Sauvage, Madeleine de Scudery, Sabine Sicaud, Andree Sodenkamp, Amable Tastu, Marie-Catherine Desjardins de Villedieu, Louise de Vilmorin, Renee Vivien, and Liliane Wouters
About the Author
Norman R. Shapiro is a professor of romance languages and literatures at Wesleyan University and a widely published, award-winning translator of French poetry, theater, and fiction. His works include Four Farces by Georges Feydeau, Selected Poems from 'Les Fleurs du Mal' of Baudelaire, One Hundred and One Poems by Paul Verlaine, The Fabulists French, and The Complete Fables of Jean de La Fontaine, winner of the Lewis Galantiere Prize. He is a member of the Academy of American Poets and in 2010 was admitted as an Officer of the Order of Arts and Letters, Republic of France (Officier de l'Ordre des Arts et des Lettres).
Advertisement