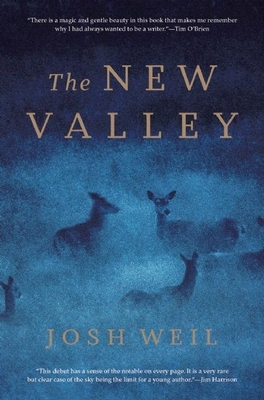 The New Valley
Novellas
Hardcover

* Individual store prices may vary.
Other Editions of This Title:
Paperback (5/11/2010)
MP3 CD (5/31/2016)
Description
The linked novellas that comprise Josh Weil's masterful debut bring us into America's remote, unforgiving backcountry, and delicately unveil the private worlds of three very different men as they confront love, loss, and their own personal demons.
Set in the hardscrabble hill country between West Virginia and Virginia, The New Valley is populated by characters striving to forge new lives in the absence of those they have loved. Told in three varied and distinct voices—from a soft-spoken beef farmer struggling to hold himself together after his dad's suicide; to a health-obsessed single father desperate to control his reckless, overweight daughter; to a mildly retarded man who falls for a married woman intent on using him in a scheme that wounds them both—each novella is a vivid examination of Weil's uniquely romanticized relationships. As the men struggle against grief, solitude, and fixation, their desperation leads them all to commit acts that bring both ruin and salvation.
Reminiscent of Bobbie Ann Mason, Annie Proulx, and Kent Haruf in its deeply American tone, The New Valley is a tender exploration of resilience, isolation, and the consuming ache for human connection. Weil's empathetic, meticulous prose makes this is a debut of inescapable power.
Praise For The New Valley: Novellas…
"Full of tenderness and looming menace . . . Gripping . . . Weil meticulously imagines people and their histories, and presents them as a product of their places. This is perhaps the hardest thing for a fiction writer of any age, working in any form, to accomplish. . . . Keep writing novellas, Josh Weil, because you write very good ones. You think on it, and we'll watch."—Anthony Doerr, The New York Times Book Review

"Weil's prose is quiet and assured . . . These stories are real heartbreakers, ringing true with loss and loneliness. . . . Finely crafted . . . Unforgettable."—Susan Larson, New Orleans Times-Picayune

"Keenly observed . . . Absolutely and utterly devastating . . . Weil's major talent—and it is major—lies in making the gears and levers of the book operate seamlessly, like the engines and equipment that litter its pages. He writes with little pretense or adornment, content to let the story come to him. . . . Every word feels necessary. Weil's keen observational eye brings the smallest details of the lives of these three men to light, and their acuity makes his other analyses gleam with truth. . . . Weil makes the reader aware of [his characters'] humanity, and their emotions and heartbreak give this book a quiet heaviness, like the Blue Ridge Mountains that loom in the background."—James Scott, The Rumpus

"Critics claiming that American short fiction is on life-support should sample the healing elixir of Josh Weil's breakout collection. In this mesmerizing debut, Weil offers up three razor-sharp novellas . . . that ring sincere and rarely hit a false note. . . . These are quiet stories of struggle, survival, heartbreak and grace. . . . Readers will find glimpses of Bobbie Ann Mason's depictions of the small-town poor mixed with Annie Proulx's evocative landscape language. . . . [Weil's] writing is understated [and] as strong as steel."—Cody Corliss, Charleston Gazette-Mail

"Powerful, masterful, haunting, and utterly unique."—Robert Goolrick

"Weil's debut is a stark and haunting triptych of novellas set in the rusted-out hills straddling the border between the Virginias. . . . Taken individually, each novella offers its own tragic pleasure, but together, the works create a deeply human landscape that delivers great beauty."—Publishers Weekly (starred review)

"A restive nobility binds the sorrowful protagonists of Weil's stellar debut collection of novellas, each a tender anthem to a starkly unforgiving Virginia countryside and the misguided determination of its most forsaken residents. . . . Throughout, Weil limns a rugged emotional landscape every bit as raw and desolate as the land that inspired it, delivering an eloquent portrait of people who defiantly cling to a fierce independence."—Carol Haggas, Booklist

"I was captivated and moved by each of these finely made novellas. The quiet, mostly ordinary lives of the characters who populate The New Valley shine with a strange and intense luminosity that is at times heartbreaking, at other times triumphant. There is a magic and gentle beauty in this book that makes me remember why I had always wanted to be a writer."—Tim O'Brien

"Josh Weil's debut book The New Valley has a sense of the notable on every page. This is the very rare but clear case of the sky being the limit for a young author."— Jim Harrison

"Josh Weil is a terrific young writer. His sense of what is crucial and dramatic make his stories deeply alive."—John Casey

"In these meticulously crafted narratives about rural life in the Virginia hill country, Josh Weil explores masculine loneliness with classic richness and depth. This is old-fashioned storytelling in the very best sense."—Helen Schulman, author of P.S. and A Day at the Beach

"In Josh Weil's soulful debut fiction, hard, wintery men bring the near-dead back to life. A steer, a tractor, a woman bolt upright, clearly heart-charged by the obsessive attentions of these cut-off men. The prose unfailingly befits the action and is percussively wrought and rich or else plain and grave but always deeply moving."—Christine Schutt, author of All Souls and Florida, a National Book Award Finalist

"This is beautiful, heartrending fiction. With deep pathos and stunning imagination, Weil gives a powerful voice to lives too often ignored and throws brilliant light on places in our country—and our hearts—that are too often in the dark. The New Valley marks the arrival of an important new writer in American letters."—Bret Anthony Johnston, author of Corpus Christi: Stories

"While I read these novellas, I realized at some point early on I kept holding my breath. Why? Because Josh Weil's stories are about people who tell no one anything, ever—men who know more cattle than they do people, and who trust the cattle more. Men who shrug off their heartbreak and die with their secrets. By turns sweet, funny, heartbreaking, and terrifying, Josh Weil makes his quietly powerful debut."—Alexander Chee, author of Edinburgh

"Weil's domain is the parallel world of rural America that still exists just outside the swaddled precincts of the 21st century. His prose—taut, precise, as unflinching as it is tender, particularly in 'Ridge Weather'—suggests a strong new voice in American fiction."—Mark Slouka, author of The Visible World

"Beware these seemingly quiet novellas: they hit hard. Josh Weil has created devastatingly memorable characters of people rarely noticed and never loved. With remarkable skill and insight, he has located the spot in the human heart where loneliness resides. Exquisitely written, deeply felt, and haunting, The New Valley is a beautiful book."—Binnie Kirshenbaum, author of The Scenic Route

"With The New Valley, Josh Weil makes a spectacular entry in the art of American storytelling. His rendering of place is strong as Flannery O'Connor's; his engagement with the moral landscape as sure as Cormac McCarthy's. In their contemplation of the past, Weil's characters—earthy, scrappy, often comic—seek restoration. These three fine novellas remind us with wit and energy that we are all in for repair."—Maureen Howard
Grove Press, 9780802118912, 288pp.
Publication Date: June 1, 2009
or
Not Currently Available for Direct Purchase