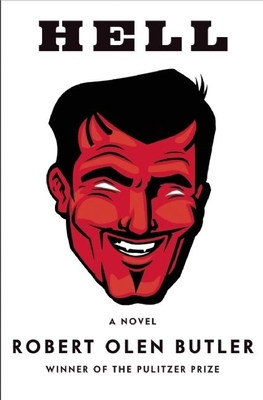 Hell
Hardcover

* Individual store prices may vary.
Other Editions of This Title:
Paperback (10/12/2010)
MP3 CD (5/17/2016)
Compact Disc (5/5/2020)
Description
Hatcher McCord is an evening news presenter who has found himself in Hell and is struggling to explain his bad fortune. He's not the only one to suffer this fate—in fact, he's surrounded by an outrageous cast of characters, including Humphrey Bogart, William Shakespeare, and almost all of the popes and most of the U.S. presidents. The question may be not who is in Hell but who isn't. McCord is living with Anne Boleyn in the afterlife but their happiness is, of course, constantly derailed by her obsession with Henry VIII (and the removal of her head at rather inopportune moments). One day McCord meets Dante's Beatrice, who believes there is a way out of Hell, and the next morning, during an exclusive on-camera interview with Satan, McCord realizes that Satan's omniscience, which he has always credited for the perfection of Hell's torments, may be a mirage—and Butler is off on a madcap romp about good, evil, free will, and the possibility of escape. Butler's depiction of Hell is original, intelligent, and fiercely comic, a book Dante might have celebrated.
Praise For Hell…
"Butler has been honing his profound empathy and wild imagination in electrifying collections of short fiction. He now unchains himself in this furiously detailed, harrowing, and gruesomely funny satire, taking on everything from genocide to advertising, journalistic ethics to marital bickering. The result is a scorching and cathartic novel of delusion, pain, crimes great and small, just deserts, and the capacity for change."—Booklist

"Prolific Pulitzer-winner Butler features a colorful cast of underworld dwellers in his latest novel, and, as in Severance and Intercourse, captures stream-of consciousness in delicious, unleashed rhythm."—Publisher's Weekly

"The fresh hell described by Robert Olen Butler's new novel is crammed with random celebrities. It is plagued by modern problems like four-hour erections and crashing hard drives. Patrolled by Satan's minions (among them, two of the Bee Gees) dressed in powder-blue jumpsuits, it's filled with bookstores that optimistically open with new owners at every sunrise — only to go out of business by the end of each day. If the books they can't sell in hell are maddeningly uneven, ever bouncing between passable wit and sophomoric giggles. Mr. Butler's slapdash "Hell" deserves shelf space there." —Janet Maslin, New York Times

"Robert Olen Butler's Hell is the perfect summer read . . . the prose flows in a seemingly effortless stream . . . [leading] to complex and exquisitely written set pieces of inspired insight into the sinful and broken nature of humanity."—News and Observer

"In Hell, Robert Olen Butler has given us a rare treat —a novel that explores the darker side of human nature while making you laugh so hard iced tea almost comes out your nose . . . McCord's search for the elusive back door culminates in a fascinating trip to heaven and some interesting conclusions about the nature of being human. It's a strange trip . . . if you like contemporary authors such as David Maine and Glen Duncan you will enjoy Butler."—Tampa Tribune

"One can imagine that Pulitzer Prize winner Butler had a grand time writing this endlessly witty and inventive novel. Readers will find it wildly comic and thought-provoking."—Library Journal

"Butler plays his winning game at full length . . . The physical comedy goes beyond anything in all but a handful of American novels. The image of Jagger prancing through "The Polish Sausage Polka," in lederhosen, is but the tip of Hell's iceberg . . . his wild hair of a Hell manages both to sneak around Dante's and deliver an uproarious refutation to Jean-Paul Sarte's."—Bookslut

"I'll never stop believing it: Robert Olen Butler is the best living American writer, period." —Jeff Guinn, Fort Worth Star-Telegram

"No writer in America today can be said to surpass Butler in the eating-his-cake-and-having-it-too category: He's literary and entertaining, serious and funny. Within his clear and fluent narratives, there usually nestles complexity, if you care to look for it." —Chauncey Mabe, South Florida Sun-Sentinel
Grove Press, 9780802119018, 240pp.
Publication Date: September 1, 2009
or
Not Currently Available for Direct Purchase