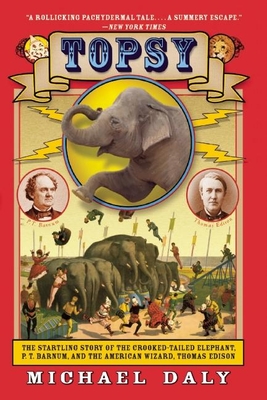 Topsy
The Startling Story of the Crooked Tailed Elephant, P.T. Barnum, and the American Wizard, Thomas Edison
Hardcover

* Individual store prices may vary.
Other Editions of This Title:
Digital Audiobook (7/1/2013)
Paperback (6/3/2014)
Compact Disc (7/2/2013)
Compact Disc (7/2/2013)
Description
In 1903, on Coney Island, an elephant named Topsy was electrocuted, and over the past century, this bizarre, ghoulish execution has reverberated through popular culture with the whiff of urban legend. But it really happened, and many historical forces conspired to bring Topsy, Thomas Edison, and those 6600 volts of alternating current together that day. Tracing them all in Topsy The Startling Story of the Crooked Tailed Elephant, P.T. Barnum, and the American Wizard, Thomas Edison, journalist Michael Daly weaves together a fascinating popular history, the first book on this astonishing tale. At the turn of the century, the circus in America was at its apex with the circuses of P.T. Barnum and Adam Forepaugh (or 4-Paw) competing in a War of the Elephants, with declarations of whose pachyderms were younger, bigger, or more "sacred". This brought Topsy to America, fraudulently billed as the first native-born, and caught between the circus disputes and the War of the Currents, in which Edison and George Westinghouse (and Nikola Tesla) battled over alternating versus direct current. Rich in period Americana, and full of circus tidbits and larger than life characters--both human and elephant--Topsy is a touching tale and an entertaining read.

Praise For Topsy: The Startling Story of the Crooked Tailed Elephant, P.T. Barnum, and the American Wizard, Thomas Edison…
This book should be read by anyone who's ever been to the circus. I read it and could not bring myself to put it down. Nor could I bring myself to look at the momentpreserved by Edison's footage and now on YouTubethat this book illuminates so clearly. The story left me a little breathless, and I will never see an elephant in captivity again and not think about Topsy and the cruelty of which we humans are capable. I've always respected Michael Daly as a great New York writer. But here, he reaches out to the world beyond New York and goes deep. The results are extraordinary. He humanizes and speaks for those animals who cannot speak. He touches the hearts of those of us who are not animal activists. I'm not so proud to be a member of the human race today, but I am proud to know someone who should be." James McBride, author of The Color of Water

"Step right up, folks, and read all about it! The amazing tale of elephants, electricity, Edison and Barnum, stunts, fights and ghastly events. Topsy is a 19th century reality show that boggles the mind as the pages fly by with events that have you laughing out loud one moment and gasping in disbelief the next." Tom Brokaw

"A fascinating and moving piece of American history and a meditation on the cost of entertainment and human progress." - Kirkus Reviews

Bizarre and remarkable Daly's fascinating, nuanced portraits of the seedy sides of the circus's heyday and the dawn of the electric age makes for incredibly entertaining reading."Publishers Weekly (starred review)

Topsy offers a compelling history of late-nineteenth-century scientific genius, American hucksterism, and the chase for the almighty buck; it's a tale of giants; Edison, Barnum, and an elephant, in which the four legged creature comes across as more humane than her fellow players"Richard Price
Atlantic Monthly Press, 9780802119049, 288pp.
Publication Date: July 2, 2013
About the Author
Michael Daly has been a newspaper journalist and columnist for many years, currently with the New York Daily News. He is the author of The Book of Mychal: The Surprising Life and Heroic Death of Father Mychal Judge about his friend, an NYFD chaplain who died on 9/11. In 2002, Daly was a finalist for the Pulitzer Prize for Commentary. He lives in Brooklyn.
Coverage from NPR
or
Not Currently Available for Direct Purchase