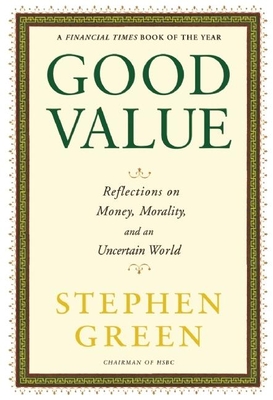 Good Value: Reflections on Money, Morality, and an Uncertain World (Hardcover)
Reflections on Money, Morality, and an Uncertain World
Atlantic Monthly Press, 9780802119179, 232pp.
Publication Date: February 1, 2010
* Individual store prices may vary.
or
Not Currently Available for Direct Purchase
Description
Can one be both an ethical person and a banker? Stephen Green, an ordained priest and chairman of HSBC, thinks so. In "Good Value," Green retraces the history of the global economy and its financial systems, from early government granaries in Alexandria to the Italian banks that flourished during the Renaissance, and argues that despite its recent lapses, the financial industry is more necessary than ever. Also necessary, however, are good businesspeople who look to their principles before their profit margins. By recognizing the precedence of moral and spiritual values over immediate profit, Green says, we have the opportunity to remake capitalism while also helping the less fortunate and finding meaning in our own lives. He backs up his ideas for a new capitalism with anecdotes about microfinance, green technology, and a number of remarkable individuals who have changed the world by using the lessons they ve learned in the global bazaar. A timely, thoughtful, and contrarian analysis of the most pressing financial and moral questions we face, "Good Value" presents us with the heartening possibility that through good ethics comes good business, and through good business comes a richer, more rewarding world for us all.
About the Author
Stephen Green is Chairman of HSBC, where he was CEO from 2003 2006. He is also Chairman of the British Banker s Association, Chair of the Prime Minister s Business Council for Britain, and an ordained priest of the Church of England. He is married with two daughters."
Praise For Good Value: Reflections on Money, Morality, and an Uncertain World…
"Stephen Green is in a universe of one: the only chairman of a major international bank who is also an ordained minister of the Church of England. . . . At a time when bankers are being pilloried for bringing about a global economic meltdown, this is an unusual and thoughtful disquisition on how to conduct oneself in a world of high finance and ambition, in, as he puts it, the global bazaar." — The Wall Street Journal


"Engaging and convincing . . . The shade of Marcus Aurelius permeates these meditations on money . . . Green is deeply acquainted with poetry, philosophy, history, and economic theory past and present." — The Times (London)


"Eloquent . . . Inspiring . . . Green strides fluently between T. S. Eliot and Karl Marx, Goethe and Camus, Adam Smith and the Prophet Isaiah. . . . The journey he takes us on offers stimulating intellectual scenery at every turn." — The Independent


"A striking personal insight into money and morality by someone on the inside. Green asks how and why we create wealth and explores its future place within an increasingly globalized world." — Financial Times


"An intensely intimate, refreshing, and at times searing read . . . Should be required reading in business schools and boardrooms where flip charts and Powerpoint presentations dominate." — Evening Standard


"Exciting and original . . . Green reflects on the astonishing impact of globalization on human history and consciousness before going on to suggest ideas for how the financial and wider business system can be fixed or replaced." — The Guardian
Coverage from NPR
Advertisement