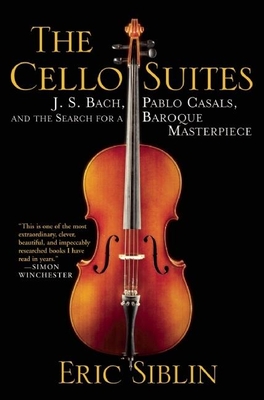 The Cello Suites
J. S. Bach, Pablo Casals, and the Search for a Baroque Masterpiece
Hardcover

* Individual store prices may vary.
Other Editions of This Title:
Paperback (1/4/2011)
Compact Disc (8/6/2019)
MP3 CD (8/6/2019)
Description
One evening, after ending a stint as a pop music critic, Eric Siblin attended a performance of Bach's Cello Suites. There, something unlikely happened: he fell deeply in love with the music. So began a quest that would unravel three centuries of intrigue, politics, and passion. Part biography, part music history, and part mystery, The Cello Suites weaves together three dramatic narratives: Bach's composition of the suites and the manuscript's disappearance in the eighteenth century, Pablo Casals's re-discovery of the music in Spain in the late nineteenth century, and Siblin's infatuation with the suites at the dawn of the twenty-first century. Siblin's search leads him to Barcelona, where Casals, as a teenager, roamed back streets in search of sheet music and found Bach's lost composition tucked in a dark corner. Casals would play the suites for twelve years before performing them--and making them his own. Siblin pursues the mysteries that haunt this music more than 250 years after its composer's death: why did Bach compose the suites for the cello, then considered a lowly instrument? What happened to the original manuscript of the suites? The Cello Suites is a journey of discovery, fueled by the transcendent power of a musical masterpiece.
Praise For The Cello Suites: J. S. Bach, Pablo Casals, and the Search for a Baroque Masterpiece…
The Cello Suites is a work of ever-percolating interest. Mr. Siblin winds up mixing high and low musical forms, art and political histories, Bach's and Casals's individual stories and matters of arcane musicology into a single inquisitive volume."Janet Maslin, The New York Times

Vividly chronicles [Siblin's] international search for the original, and unfound, Bach scoreMr. Siblin's book is well researched, and filled with enough anecdotes to engage even the classical-music aficionadobut the book is best distinguished by its writing. To vivify music in words is not easy. But Mr. Siblinrises to the taskRead The Cello Suites preferably with their melodious hum in the backgroundand you will never look at a cello in quite the same way again." The Economist

This is rich terrain, and Siblin's book is an engrossing combination of musical and political history spiced with generally vivid descriptions of the cello suites themselves[Siblin] has given us a compelling portrait of a passionate, prickly Bach, of Casals, a musician who was also politically engaged, and an engrossing cast of secondary characters. Best of all, The Cello Suites makes us want to pop in a CD and really listen to those cello suites. Awesome."Wynne Delacoma, Chicago Sun-Times

Engaging and imaginativea charming narrative."Melinda Bargreen, The Seattle Times

The author has done a wealth of research in pursuit of his new passion, and he writes engaginglythis intrepid writer has worked hard to interest readers in his musical obsession, and there is a great deal to chew on here."Priscilla S. Taylor, The Washington Times

Siblin firmly believes Bach is what you make of him'and his book represents just thatNo matter what the great composer means to readers, they will surely enjoy Siblin's fun, fast-paced journey from pop-music scribbler to Bach aficionado." Christian Science Monitor

The ironies of artistic genius and public taste are subtly explored in this winding, entertaining tale of a musical masterpieceSiblin is an insightful writer with an ability to convey the sound and emotional impact of music in words." Publishers Weekly

This is one of the most extraordinary, clever, beautiful, and impeccably researched books I have read in years. A fascinating story deftly toldand, for me at least, ideally read with Bach's thirty-six movements playing softly in the background; a recipe for literary rapture."Simon Winchester, author of the New York Times best-seller The Professor and the Madman

The quest was part Homer but also part George Plimpton. . . . Everywhere Siblin went, every door he opened, was worth opening. . . This book shouts life and also a future for our music."Eric Friesen, Queen's Quarterly (Canada)

Fascinating . . . The Cello Suites is a satisfying and sustaining read. Highly recommended for music fans and lay people alike." Montreal Review of Books

A rare combination of history and a journey of self-discovery and self-fulfillment written for a general reader. . . . Insightful [and] engaging . . . Eric Siblin puts us in touch with the joy of discovering a new passion in life." Toronto Star
Atlantic Monthly Press, 9780802119292, 319pp.
Publication Date: December 15, 2009
About the Author
Eric Siblin is a Montreal-based journalist and documentary filmmaker. He worked as a reporter/editor at the Montreal bureau of The Canadian Press (CP) from 1989 to 1996 when he joined The Montreal Gazette as a staff reporter, including a stint as the newspaper's pop music critic. He made the transition to television in 2002 with the documentary Word Slingers, which explores the curious subculture of competitive Scrabble tournaments. The film was broadcast in Canada and the U.S., and won a Jury Award at the Yorkton Short Film & Video Festival. He also co-directed the documentary In Search of Sleep, and has written for a wide variety of magazines. The Cello Suites is his first book.
or
Not Currently Available for Direct Purchase