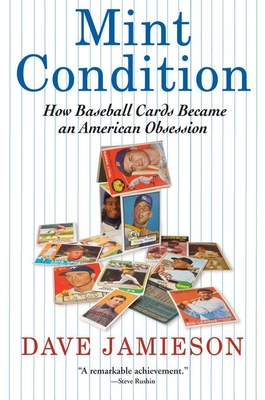 Mint Condition
How Baseball Cards Became an American Obsession
Hardcover

* Individual store prices may vary.
Other Editions of This Title:
MP3 CD (7/12/2016)
Paperback (4/12/2011)
Description
When award-winning journalist Dave Jamieson's parents sold his childhood home a few years ago, he rediscovered a prized boyhood possession: his baseball card collection. Now was the time to cash in on the "investments" of his youth. But all the card shops had closed, and cards were selling for next to nothing online. What had happened? In Mint Condition, his fascinating, eye-opening, endlessly entertaining book, Jamieson finds the answer by tracing the complete story of this beloved piece of American childhood. Picture cards had long been used for advertising, but after the Civil War, tobacco companies started slipping them into cigarette packs as collector's items. Before long, the cards were wagging the cigarettes. In the 1930s, cards helped gum and candy makers survive the Great Depression. In the 1960s, royalties from cards helped transform the baseball players association into one of the country's most powerful unions, dramatically altering the game. In the '80s and '90s, cards went through a spectacular bubble, becoming a billion-dollar-a-year industry before all but disappearing, surviving today as the rarified preserve of adult collectors. Mint Condition is charming, original history brimming with colorful characters, sure to delight baseball fans and collectors.
Praise For Mint Condition: How Baseball Cards Became an American Obsession…
A phenomenal primer in the pitfalls of personal investing and the dangers of believing something is valuable just because everyone says it is (see: Tickle Me Elmo, Retired Beanie Babies)." Boston Herald

"An entertaining history of baseball cards . . . an engaging book on a narrow but fascinating topic." Washington Post

Nostalgic and quirky." New York Post

"Jamieson chronicles the story of baseball cards with skill and bounce ... It's a blast for collectors of all stripes." Austin American Statesman

Jamieson explores the history of card collecting through an entertaining cast of charactersthe visionaries and villains who turned a gimmick designed to boost tobacco sales into a billion-dollar industry. . . The pictures in Jamieson's book are captivating, a veritable art gallery of the industry from its infancy in the 1800s to the slickly produced versions of today.... For anyone who can recall being excited to rip open their newest pack of cards, Mint Condition is a treat." Forbes.com

By the early 1990s, baseball card manufacturers were printing 81 billion of the things a year, or 325 for every man, woman and child in the U.S. . . . Of course it ended badly. How and why is the subject of Dave Jamieson's absorbing Mint Condition." Bloomberg

In this compelling book, journalist Jamieson tracks the history of baseball cards from their late 19th-century beginnings to the present, covering the controversies (e.g, card forgeries), the rivalries (e.g., between companies issuing cards, and between rival collectors), and baseball cards as investments. . . . This very satisfying account of the development of baseball cards and our attitudes toward them is highly recommended even for those casually interested in sports or collectibles." Library Journal

Engaging, informative, and full of unexpected pleasures, Mint Condition deserves a spot on any baseball fan's bookshelf. Dave Jamieson has hit it out of the park." Cait Murphy, author of Crazy '08: How a Cast of Cranks, Rogues, Boneheads, and Magnates Created the Greatest Year in Baseball History

Mint Condition kept me spellbound and couch-bound for two days. Its pages are redolent of basements, bubble gum and bachelorhood. They teem with artists, innocents and charlatans. Dave Jamieson fit a century-and-a-half of Americana on the back of a baseball card, a remarkable achievement." Steve Rushin

An engaging, playful and well-reported history of baseball cards, and how they went from being a premium in packs of gum to collectibles selling at six-figure prices at the world's auction houses." Milwaukee Journal Sentinel

A thoroughly compelling, entertaining and sometimes tragic read, [Mint Condition] will provide even veteran collectors with new insight to the hobby they love." Voice of the Collector

"A definitive history of both a pastime and an industry. For those of us who grew up collectors--and still feel a sentimental attachment to those seventeen utterly worthless Dan Plesac rookie cards gathering mold in our basement--this is the book that explains everything." Michael Weinreb, author of The Kings of New York and Bigger than the Game

An interesting examination of a hobby that turned into big business and then fell back to earth." Charlotte Observer

A fascinating history of a once-vital tradition." Robert Birnbaum, The Morning News

The only history of baseball cards that matters." Kriston Capps, DCist.com

Jamieson elucidates with smooth prose and fascinating tidbits of historical trivia just how the production of baseball cards became a major industry Jamieson peppers his narrative with stories of the eccentric characters and colorful personalities The book is an essential read for the baseball fan or anyone who remembers ripping into a wax pack, hoping that their childhood heros would be found inside." Brett Savage, New Jersey Monthly
Atlantic Monthly Press, 9780802119391, 272pp.
Publication Date: April 6, 2010
or
Not Currently Available for Direct Purchase