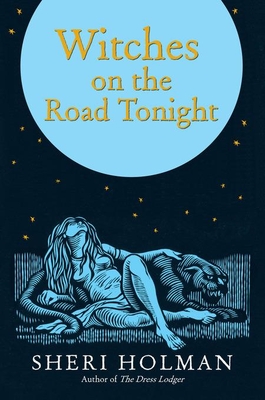 Witches on the Road Tonight (Hardcover)
Atlantic Monthly Press, 9780802119438, 263pp.
Publication Date: March 1, 2011
* Individual store prices may vary.
or
Not Currently Available for Direct Purchase
Description
As a child growing up in Depression-era rural Virginia, Eddie Alley's quiet life is rooted in the rumors of his mother's witchcraft. But when he's visited by a writer and glamorous photographer researching American folklore for the WPA, the spell of his mother's unorthodox life is violently disrupted, and Eddie is inspired to pursue a future beyond the confines of his dead-end town.
He leaves for New York and becomes a television horror-movie presenter beloved for his kitschy comedy. Though expert at softening terror for his young fans, Eddie cannot escape the guilty secrets of his own childhood. When he opens his family's door to a homeless teenager working as an intern at the TV station, the boy's presence not only awakens something in Eddie, but also in his twelve-year-old daughter, Wallis, who has begun to feel a strange kinship to her notorious grandmother. As the ghost stories of one generation infiltrate the next, Wallis and Eddie grapple with the sins of the past to repair their misguided attempts at loyalty and redemption.
"In Witches on the Road Tonight," bestselling author Sheri Holman teases out the dark compulsions and desperate longings that blur the line between love and betrayal.

About the Author
Sheri Holman is the author of "A Stolen Tongue," which was translated into thirteen languages; "The Dress Lodger," which has sold over 300,000 copies nationally and was named a "New York Times "Notable Book and one of the New York Public Library s Books to Remember; and "The Mammoth Cheese," short-listed for the Orange Prize for Fiction and named a" San Francisco Chronicle" and" Publishers Weekly" Book of the Year. Holman is a founding member and currently serves on the curatorial board of The Moth. She lives with her family in Brooklyn, New York.

Visit her website at sheriholman.com"
Praise For Witches on the Road Tonight…
A New York Times Editors' Choice
Winner of an Independent Publisher Book Awards Gold Medal for Literary Fiction

Undeniably impressive . . . [Holman] boasts a fine Gothic imagination, summoning visceral details at will . . . [and] evoking the blur between the real and the supernatural as if it were the most straightforward thing, a knack possessed by few writers, though Alice Hoffman immediately springs to mind. . . . [Witches on the Road Tonight] explores the dark vein of magic that runs just beneath our real lives."The New York Times Book Review

"Holman is a master of the miniature. She uses tiny, achingly accurate details to bring each moment to life on the page; her sentences sing. . . . This richly layered novel is Holman's most ambitious and successful yet."People (4 stars)

[Witches on the Road Tonight takes readers] deep into the secretive silence and sublime vistas of the Blue Ridge Mountains, a setting which Holman splendidly evokes in all its eerie beauty. . . . . She is as eloquent about the physical landscape of her stories as she is about the internal terrain of human emotion. . . . Seductive and hallucinatory . . . Witches on the Road Tonight is less about monsters and witches than it is about people whose fears and failings are profoundly and recognizably human."The Washington Post

Holman's clear and thoughtful prose deals with guilt, love, and the possibility of redemption. . . . [A] rich and rewarding read, elegant and assured."The Barnes & Noble Review

Sheri Holman has an imagination that is both capacious and meticulous, and by turns somber and antic. . . . One of the pleasures of Witches on the Road Tonight is Holman's copious knowledge of American popular cultures as they shade into American folk culture. . . . [Holman] is not exploiting the current rage for vampires, witches, and werewolves[her] magic is homegrown and rooted in the soil. Holman's characters have bona fide issues of identity and legitimate sources of pain that magic exacerbates rather than erases. The originality here lies in the author's ability to reshuffle the materials of pop literature and contemplate them anew. . . . Holman [has] a restless adventurousness that is the mark of a born novelist, the sort of novelist who can't help writing even if the novel is dying or literary culture is evolving or apps are replacing human brains. Witches on the Road Tonight is a path into her work that beckons, with strange lights and mysterious apparitions."Los Angeles Review of Books

Sheri Holman is a difficult writer to categorize. She can write an elegantly observant novel of domestic absurdity, and she can write a book humming with Romantic misery and ghastly horror. . . . . Holman is an original, and her literary ideas are so sublimely odd that they seem to have exited her imagination of their own free will. . . . Marvelously creepy, touching, and tender . . . Witches on the Road Tonight is about the power of narrative and its hold on us. . . . The dialect we speak now, Holman says with eloquence, humor, and urgency, is that of televised natural disaster, war, starvation. Instead of horror, we have terror."The New York Review of Books

"Mysterious, beautiful, and immediately engrossing, Witches on the Road Tonight is a tour de force of meticulous research brought urgently to life by headlong, transporting prose."Jennifer Egan, author of A Visit From the Goon Squad

A spooky, multigenerational ghost story . . . Eerie and fascinating . . . Vivid and lushly written . . . Holman explores an ambitious collection of themes: the fearful monsters" created by ignorance and prejudice; the burden of limited roles for women and how they can deform and disconnect; the myth of the obedient wife and mother and the tradition of heterosexual marriage; and the importance of a safety zone between fear and reassurance and whether in today's world we can still expect to find it. . . . [Witches on the Road Tonight] casts its spell . . . and reminds us of the dark side that's trapped in the mirror until we're willing to look long enough to see what's really staring back."Atlantic Journal-Constitution

Holman is among the most deserving American novelists for promotion to the A-list. . . . She is a writer clearly fascinated by the fictional possibilities of history. . . . Yet it isn't her intriguing approach to the past that is most rewarding about reading Sheri Holman, but the distinctive sentences she uses to bring that past to idiosyncratic life. . . . There is humor in Holman's prose, and intelligent ironies, but no camp, no ghoulish excess. Witches on the Road Tonight is a serious novel about America's relationship withand arguable reliance uponhomegrown mythologies: horror B-movies, the cabin in the woods, Southern black magic and, yes, witches. For readers who like their trendy monsters delivered in wise and sensual lines, and with a side order of cultural insight."The Globe and Mail

[Holman's] weird and wonderful new novel, Witches on the Road Tonight, is a blend of backwoods sorcery and ageless heartbreak. . . . Holman expertly untangles and reweaves many threads in this novel: among them, the lure and revulsion of both external and emotional violence; the complexity of sexual love; the fragility of the relationships we construct; real and perceived ghosts; and, of course, witchcraft. . . . Witches on the Road Tonight haunts. As the twisted narrative unfolds with tantalizing surprises, Sheri Holman displays her own kind of sorcery, making us believe what we might not otherwise believe."Bookpage (online)

Riveting . . . A truly great story . . . Holman's gifts for Gothic prose and palpable details . . . [and her] ability to ride that line between supernatural sensationalism and everyday occurrences carries readers' enthusiasm. . . . With a tale this deliciously imaginative and the telling of it so delightfully descriptive, Holman has crafted not only a mesmerizing and complex story, but she's created something that is truly a pleasure to read. Let Witches on the Road Tonight slip in and weave its magic in your mind, it will leave you spellbound."PopMatters (8 out of 10)

"Heartbreaking . . . Holman investigates a dynasty of fear, mysticism, guilt, and love, beginning in Depression-era Appalachia through to contemporary Manhattan . . . [and] maps out the devastating consequences of sin and circumstance."Publishers Weekly

Vibrantly atmospheric, Holman's stealthily ambiguous novel of suspense glitters with the force of sins and indiscretions unbounded by time."Booklist

Past and present, reality and dreams, harsh truths and dangerous delusions mingle intriguingly in this unusual fourth novel from the versatile author of vivid historical and contemporary fiction. . . . Holman tells this eerie tale with considerable skill . . . extending her range and never failing to surprise and engage."Kirkus Reviews

Sheri Holman is an amazing talent, and Witches on the Road Tonight is her most accomplished work to date. Beautifully written and brilliantly realized, it is also moving, insightful, compellingly readable, and spooky. Holman's characters are real and resonant and disturbing in the way that makes fiction great. This novel does everything great fiction should, and it will haunt you for a very long time."David Liss, author of The Whiskey Rebels and The Devil's Company

Three generations of witches, in a wickedly powerful American epic. An Appalachian conjure woman; a soul-bewildered TV host-vampire; a New York news anchor trying desperately to make peace with the demons pursuing her: the characters are spellbinding and the prose crackles throughout. This is a tale told by a sorceress."George Dawes Green

"[An] eerie, often tense read."Library Journal
Advertisement