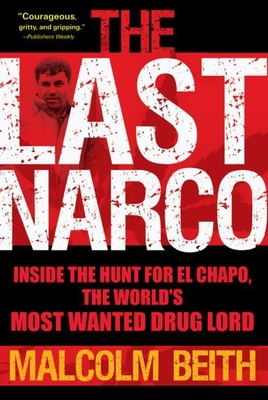 The Last Narco: Inside the Hunt for El Chapo, the World's Most Wanted Drug Lord (Hardcover)
Inside the Hunt for El Chapo, the World's Most Wanted Drug Lord
Grove Press, 9780802119520, 261pp.
Publication Date: September 7, 2010
* Individual store prices may vary.
or
Not Currently Available for Direct Purchase
Description
The dense hills of Sinaloa, Mexico, are home to the most powerful drug lord since Pablo Escobar: Joaquin El Chapo Guzman. Guzman is among the world's ten most wanted men and also appeared on Forbes magazine's 2009 billionaire list. With his massive wealth, his army of professional killers, and a network of informants that reaches into the highest levels of government, catching Guzman was considered impossible until now. Newly isolated by infighting amongst the cartels, and with Mexican and DEA authorities closing in, El Chapo is vulnerable as never before. Newsweek correspondent Malcolm Beith has spent years reporting on the drug wars and follows the chase with full access to senior officials and exclusive interviews with soldiers and drug traffickers in the region, including members of Guzman's cartel. The Last Narco combines fearless reporting with the story of El Chapo's legendary rise from a poor farming family to the capo of the world's largest drug empire. The Last Narco is essential reading about one of the most pressing and dramatic stories in the news today a true crime thriller happening in real time.
Praise For The Last Narco: Inside the Hunt for El Chapo, the World's Most Wanted Drug Lord…
All of Mexico is El Chapo country. His rise parallels that of Pablo Escobar."Newsweek

Malcolm Beith's book is a virtual nonstop chase."David Steinberg, Albuquerque Journal

The Last Narco is a brave and terrific headlong journalistic trek into the dangerous, and immensely relevant, terrain of drug trafficking in Mexico, and the life and times of its foremost practitioner." Sam Quinones, author of True Tales from Another Mexico

The Last Narco gracefully captures the heroic struggle of those who dare to stand up to the cartels, and the ways those cartels have tragically corrupted every aspect of Mexican law enforcement." Laura Bickford, producer, Traffic

Malcolm Beith slaps our faces with our ignorance. We barely know Mexico, and understand even less of its major industry, drugs. In The Last Narco, he gives us a look into a place our government either denies or lies about. This time you can run, but you can't hide." Charles Bowden, author of Murder City

No war on terror' was ever as terrifying as the ferocious wars of the drug lords in Mexico. In The Last Narco, Malcolm Beith courageously takes us to the front lines in the heart of the Mexican badlandsand also right on the border of the United States. This is a threat to homeland security that is too often ignored by the press and public, and this is the book that brings it all into focus. A must read." Christopher Dickey, author of Securing the City: Inside America's Best Counterterror Forcethe NYPD

Malcolm Beith risked life and limb to tell the inside story of Joaquín El Chapo' Guzmán Loera, Mexico's notorious drug capo. A novelist could not have presented a more intriguing or compelling tale of corruption, intimidation, murder, blood feuds, life-and-death negotiations, and the entrepreneurial skill of a near-mythic figure whom Forbes Magazine named one of the world's richest men. Beith's superb book corroborates the cliché that fact is stranger than fiction." George W. Grayson, professor of government at the College of William & Mary and the author of Mexico: Narco-Violence and a Failed State?

He is the last of the Mohicans. All of the other big cartels have been decapitated. That is why they want him so badly." Jorge Chabat, Mexico City Law Enforcement Expert

A virtual nonstop chase." Trading Markets
Advertisement