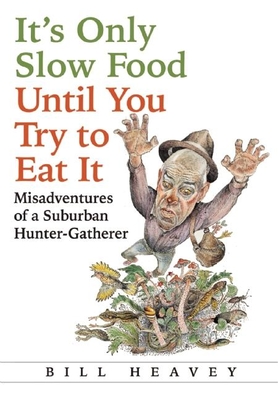 It's Only Slow Food Until You Try to Eat It
Misadventures of a Suburban Hunter-Gatherer
Hardcover

* Individual store prices may vary.
Other Editions of This Title:
Paperback (6/1/2014)
Description
"Mr. Heavey takes us back to the joys--and occasional pitfalls--of the humble edibles around us, and his conclusions ring true."--Wall Street Journal Longtime Field & Stream contributor Bill Heavey has become the magazine's most popular voice by writing for sportsmen with more enthusiasm than skill. In his first full-length book, Heavey chronicles his attempts to "eat wild," seeing how much of his own food he can hunt, fish, grow, and forage. But Heavey is not your typical hunter-gatherer. Living inside the D.C. Beltway, and a single dad to a twelve-year-old daughter with an aversion to "nature food," he's almost completely ignorant of gardening and foraging. Incensed at the squirrels destroying his tomatoes, he is driven to rodent murder--by arrow. Along the way, Heavey is guided by a number of unlikely teachers, from the eccentric Paula, who runs an under-the-table bait business, to Michelle, an attractive single mom unselfconsciously devoted to eating locally. To the delight of his readers and the embarrassment of his daughter, he suffers blood loss, humiliation, and learns, as he puts it, that "'edible' is not to be confused with 'tasty.'"

Praise For It's Only Slow Food Until You Try to Eat It: Misadventures of a Suburban Hunter-Gatherer…
The age-old art of foraging takes Bill Heavey from his back yard to a Louisiana swamp and points beyond. But this is not a tale of trendy tablefare. With a healthy dose of skepticism, a dollop of humor, and even a dash of romance, Heavey transforms the typical ingredients of midlife crisis into a surprising feast of renewal, finding true sustenance in nature's garden." Langdon Cook, author of Fat of the Land

Bill Heavey is the convivial and erudite hunting/fishing/foraging/trespassing partner you never hadand just as well, because he generally returns from the wild" (backyard, park, andyescemetery) bloodied and reeking. His entertaining yet sneakily informative tales will have you rolling in the thistle." William Alexander, author of The $64 Tomato

This is a tale of a leap into the deep-end of extreme foodieismclumsy, bold, courageous, hilarious, honest, and touching. Bill wrote an onion. The first layer is a funny, witty adventure story. Peel it back, and we'll find leaf upon leaf of how-to, coming-of-age, consumerist criticism, cultural discovery, plights real and imagined, and ultimately, a love story. Bill has given us all permission to not only discover a new facet of our edible lives, but to enjoy it." Duff Goldman, Ace of Cakes

"If Bill Heavey felt like it, he could write a book about something as boring as shuffleboard and it'd turn out to be good. He's just that sharp and funny. But thankfully, in It's Only Slow Food Until You Try to Eat It, he chooses to write about things that are close to my heart, such as hunting, fishing, and wild food. Whether he's hanging out with trendy foragers in San Francisco or butchering caribou with indigenous hunter-gatherers in Alaska, he relates his experiences with respect, curiosity, and well-honed humor. Not only is this book perfect for anyone who loves food or the out-of-doors; it's perfect for anyone who loves a good story, well-told."Steven Rinella, author of The Scavenger's Guide to Haute Cuisine, Meat Eater, and American Buffalo.

A book with many layers, it's refreshing untrendy, and it's narrated with great humor and honesty."Catherine Ramsdell, PopMatters
Atlantic Monthly Press, 9780802119551, 274pp.
Publication Date: May 7, 2013
About the Author
Bill Heavey is an editor-at-large for Field & Stream, where he has written since 1993. His work has appeared in numerous publications including Men's Journal, Outside, the Washington Post, the Los Angeles Times, and the Best American Magazine Writing.
or
Not Currently Available for Direct Purchase