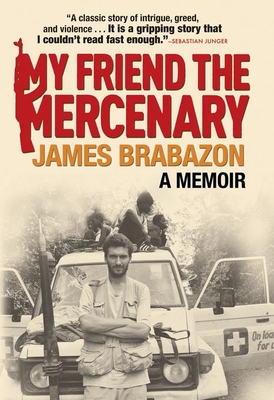 My Friend the Mercenary (Hardcover)
Grove Press, 9780802119759, 457pp.
Publication Date: March 22, 2011
* Individual store prices may vary.
or
Not Currently Available for Direct Purchase
Description
In February 2002, British journalist James Brabazon set out to travel with guerrilla forces into Liberia to show the world what was happening in that war-torn country. To protect him, he hired Nick du Toit, a former South African Defence Force soldier who had fought in conflicts across Africa for over three decades. What follows is an incredible behind-the-scenes account of the Liberian rebels known as the LURD as they attempt to seize control of the country from government troops led by President Charles Taylor. In this gripping narrative, James Brabazon paints a brilliant portrait of the chaos that tore West Africa apart: nations run by warlords and kleptocrats, rebels fighting to displace them, ordinary people caught in the crossfire and everywhere adventurers and mercenaries operating in war's dark shadows. It is a brutally honest book about what it takes to be a journalist, survivor, and friend in this morally corrosive crucible.
About the Author
James Brabazon is a frontline journalist and documentary filmmaker. Based in London, he has travelled in over sixty countries - investigating, photographing, filming and directing in the world's most hostile environments. His awards include the Rory Peck Trust Sony International Impact Award 2003, the Rory Peck Trust Freelancer's Choice Award 2003, the IDA Courage Under Fire Award 2004 and the IDFA Joris Ivens Competition Special Jury Award 2004. He has also been nominated for two BAFTAs and two Emmys. He has made thirty international current affairs films broadcast by the BBC, Channel 4, CNN, SABC and the Discovery Channel. He lecturers on the ethics and practicalities of journalism in war zones and has written for the Observer, the Independent and the Guardian.
Praise For My Friend the Mercenary…
Among the most exciting true stories of adventureand misadventureI've ever read about modern Africa; a beautifully written adrenaline rush by one of our generation's bravest journalists." Aidan Hartley, author of The Zanzibar Chest

An outstanding memoir about the power of friendship in the morally complex theater of war. James Brabazon is a fearless reporter and a brutally honest narrator. I couldn't put this book down." Andy McNab, author of Bravo Two Zero

One of the most brutal, true stories you may ever read and yet streaming through it is a remarkable and unlikely friendship."Peter Hallett, Utterance

Intensely vivid story of war and the peculiar breed of warriors who fight in 21st-century Africa. . . A haunting memoir and tribute to an extraordinary comrade-at-arms."Kirkus Reviews

Reads like a political thriller. Brabazon's searing narrative captures both the allure of warthe rush of danger, the deep camaraderie, the get-rich-quick miragesand its brutal realities. It's both a seductive paean to and a harsh exposé of the mercenary ethos that fattens off of Africa's travails."Publishers Weekly

Unsparing prose, a visceral shock ride into horror. This book reveals the savagery of Africa's least known wars, fed and exploited by opportunists and plunderers who are drawn to these ravaged countries like vultures to a carcass."
Jonathan Kaplan, author of The Dressing Station

The first two thirds of Brabazon's extraordinary confessional, My Friend the Mercenary, is the story of how the professional partnership of a young, liberal British filmmaker and a hit man for apartheid South Africa developed into intimate comradeship. It was a strange and dangerous liaison, and it found itself in the heart of darkness. . . . The concluding chapters of his book present as full and convincing an account of that failed assault on Equatorial Guinea as we are likely to read."The Scotsman (UK)
Advertisement