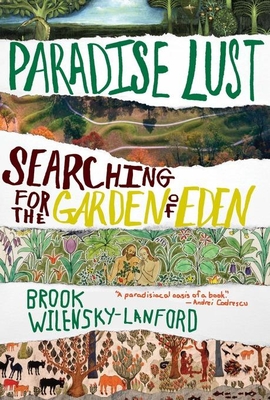 Paradise Lust
Searching for the Garden of Eden
Hardcover

* Individual store prices may vary.
Other Editions of This Title:
MP3 CD (1/12/2016)
Paperback (9/11/2012)
Description
It seems that ever since mankind was kicked out of the Garden of Eden for eating the forbidden fruit, we've been trying to get back in. Or at least, we've been wondering where the Garden might have been. St. Augustine had a theory, and so did medieval monks, John Calvin, and Christopher Columbus. But when Darwin's theory of evolution permanently altered our understanding of human origins, shouldn't the search for a literal Eden have faded away? Not so fast. In Paradise Lust, Brook Wilensky-Lanford introduces readers to the enduring modern quest to locate the Garden of Eden on Earth. It is an obsession that has consumed Mesopotamian archaeologists, German Baptist ministers, British irrigation engineers, and the first president of Boston University, among many others. These quixotic Eden seekers all started with the same brief Bible verses, but each ended up at a different spot on the globe: Florida, the North Pole, Ohio, China, and, of course, Iraq. Evocative of Tony Horwitz and Sarah Vowell, Wilensky-Lanford writes of these unusual characters and their search with sympathy and wit. Charming, enlightening, and utterly unique, Paradise Lust is a century-spanning history that will take you to places you never imagined.

Praise For Paradise Lust: Searching for the Garden of Eden…
Praise for Paradise Lust

"A pleasure. Wilensky-Lanford tackles her subject with an appealing mix of serious research and tongue-in-cheek humor. Neither too academic nor too whimsical, the storytelling in Paradise Lust is often irresistible." The New York Times

"Dense, absorbing [Wilensky-Lanford's] interest in her subject is deep, her narrative is expertly layered, and her interpretations of the seekers' motives are more than convincing." Wall Street Journal

"An entertaining history a thoroughly researched and engaging examination of faith's role in our lives. This is Wilensky-Lanford's first book, and it bodes well for her of-this-world future." Cleveland Plain Dealer

"Paradise Lust takes us on a fascinating journey - and one that sheds much light on the meaning of biblical literalism. I won't tell you whether or not she finds Eden, but she did find a great topic." A.J. Jacobs, author of The Year of Living Biblically

"A gloriously researched, pluckily written historical and anecdotal assay of humankind's age-old quixotic quest for the exact location of the Biblical garden." Elle

"Witty and exhaustively researched" Associated Press

"Succeeds in doing what the best one-subject historical studies do, which is to reframe history, freshening up long-familiar events a celebration of the surprisingly peaceful co-existence of radically different theories." -San Francisco Chronicle

"Eden's dream fades, theories are debunked, but new ones sprout as this most original of stories remains timeless." The New York Journal of Books

"If you want dramatic pronouncements about the latitude and longitude of the Garden of Eden, you'll have to look elsewhere But if you're looking for a sly and entertaining account of the ongoing search for paradise, Paradise Lust is it." Bookpage.com

"[A] smart social history which covers theories both crackpot and credible." More Magazine

"Part adventure story, part historical narrative, Wilensky-Lanford spins the history of explorers who searched for the Garden's precise earthly coordinates Quick-witted and quirky Wilensky-Lanford isn't satisfied with asking only "where," she also deftly explores "why?" meditating not so much on the Garden, but on humanity's first steps from it." Publishers Weekly

"A spirited chase through history, geography and religion Wilensky-Lanford has certainly done her homework A lively journey." Kirkus Reviews

"In the thought-provoking Paradise Lust, author Brook Wilensky-Lanford explores why this Biblical paradise still fascinates so many A sly and entertaining account." BookPage.com

"Scholarly and smart, yet accessible and fun with just the right amount of wit, Paradise Lust is original, impressively researched, and hard to put down." David Farley, author of An Irreverent Curiosity

"Humorous, meticulously researched and detailed. an all-around good read." RagMag

"This charming exploration of the enduring place in the Western imagination held by the story of our Edenic origins is all about the searchers, not the search."Macleans

"One of the most enduring and mysterious places in the Bible, the Garden of Eden has fascinated people around the world since ancient times. Those who believe that it is a real place are a diverse and prominent group of personalities that Brook Wilensky-Lanford describes in her lively new book. The desire to put Eden on the map is a timeless quest to discover our origins, all told in charming detail." The Daily Beast, a Daily Beast Must Read"

A charming, century-spanning journey about the search for the Garden of Eden This is truly a fascinating read."Carol Ann Strahl, Buffalo Rising
Grove Press, 9780802119803, 291pp.
Publication Date: August 2, 2011
or
Not Currently Available for Direct Purchase