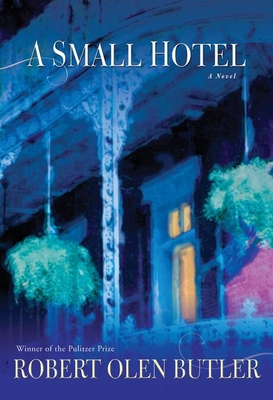 A Small Hotel
Hardcover

* Individual store prices may vary.
Other Editions of This Title:
Paperback (7/10/2012)
MP3 CD (11/15/2011)
Compact Disc (11/15/2011)
Description
Set in contemporary New Orleans but working its way back in time, A Small Hotel chronicles the relationship between Michael and Kelly Hays, who have decided to separate after twenty-four years of marriage. The book begins on the day that the Hays are to finalize their divorce. Kelly is due to be in court, but instead she drives from her home in Pensacola, Florida, across the panhandle to New Orleans and checks into Room 303 at the Olivier House in the city's French Quarter--the hotel where she and Michael fell in love some twenty-five years earlier and where she now finds herself about to make a decision that will forever affect her, Michael, and their nineteen-year-old daughter, Samantha. An intelligent, deeply moving, and remarkably written portrait of a relationship that reads as a cross between a romance novel and a literary page turner, A Small Hotel is a masterful story that will remind readers once again why Robert Olen Butler has been called the "best living American writer" (Jeff Guinn, Fort Worth Star-Telegram).

Praise For A Small Hotel…
"Piercing . . . Bristling with insight . . . Butler's most impressive accomplishment lies in capturing the mingled emotions of anger, remorse, pain and even love that mark most divorces. . . . Honest and compassionate, Butler's exploration of a marriage's sundering is the work of a mature, reflective author."Harvey Freedenberg, Star Tribune (Minneapolis)

"Intelligent, deeply moving . . . Remarkably written . . . A Small Hotel is a masterful story that will remind readers once again why Robert Olen Butler has been called the best living American writer.' Jeff Guinn, The Fort Worth Star Telegram

[A] deliciously, unapologetically romantic novel . . . [Butler's] empathetic, precise writing flirts with melodrama but never feels hackneyed. In less skillful hands, this story would be a guilty pleasure. Instead, it's just a pleasure." O Magazine

"Richly observed . . . Butler's lucid writing style always conceals turbulent depths beneath a placid surface. He is, in fact, one of the boldest literary writers working today, willing to follow his imagination wherever it leads."Chauncey Mabe, Sun Sentinel (Florida)

"Intriguing . . . Intricate . . . Butler skilfully sets up expectations only to twist them, and twist them again. Words said and unsaid can change eveything in an instant." Colette Bancroft, The Mercury News

A sleek, erotic, and suspenseful drama about men who cannot say the word love and the women they harm . . . Butler executes a plot twist of profound proportions in this gorgeously controlled, unnerving, and beautifully revealing tale of the consequences of emotional withholding."Donna Seaman, Booklist (starred review)

With mesmerizing detail, Butler excavates layers of memory and illuminates moments of both tenderness and alienation." The New Yorker

From each spouse's point of view we witness the feelings that didn't break the surface at the time, but never went away." The New York Times

Butler . . . is masterful in the way he draws us into the hearts of his characters. . . . [He] gives the last pages of his quiet book the urgency of a thriller." Bookpage.com

Engaging . . . Butler [has a] unique writing style . . . with rich descriptions and smooth transitions . . . similiar to Hemingway . . . A Small Hotel is a powerful statement about human nature." bookreporter.com

Butler brings exquisite sensitivity to the details, unearthing them with the care of [a] good archaeologist." Karen Sandstrom, The Cleveland Plain Dealer

Visions of the past arise in husband and wife on the brink of divorce, as metaphoric, coded conversations, minute gestures, and hurtful silences threaten grave consequences in this tightly focused, intensely imagined, masterfully omniscient novel. Robert Olen Butler understands the failings of men, and he understanding the failings of women just as well."Susan Vreeland, author of Girl in Hyacinth Blue

A Small Hotel is a gorgeous, hot-blade of a novel, infused with lyric gracea page-turner that tracks the unexpected turns of a marriage. Reading it, I could not pull myself away. It is the story of a man and a womanof love, betrayal and the cost of silence. Revelatory and precise, A Small Hotel is a gem of great literary fiction which contends that the life we live every day is not pedestrian, but charged, lucent. It can turn on a dime by what we say and what we fail to say." Dawn Tripp, author of Game of Secrets

This tiny, romantic novel could be read at a single sitting, but it's best savored in small slices, accompanied by the quiet ticking of the heart. A marriage on the rocks, a race against time, the duel between past and present that exists in every living soul. As a woman, I particularly admired the portrayal of the husband, Michael, the type of silent man who is an enigma to women and a source of great pain in our relationships with him. Through Butler's insightful rendering, Michael's point of view came as a revelation." Janet Fitch, author of White Oleander

"Separation and the seemingly insurmountable divide between men and women provide the novel's strongest themes and they do so by unflinchingly illustrating the small moments that seem to come and go unnoticedyet in the end define us."Flavorpill (online)

Intriguing . . . beautifully told." New York Journal of Books

"Slight, intense, elliptical, it's a book that requires concentration and forbearance. Brace yourself for the deep renderings of the slightest movement; stay still for the immersion in New Orleans. . . . Longing, desire, and silence are the subjects of A Small Hotel. . . . How strange I felt when I left the world of this book to return to the 'real world.' Somehow the world of this book seemed more authentic than the world I actually exist in."New World Reviews

"Lyrical, haunting . . . Readers will be touched by [Butler's] careful exploration of . . . the human condition and how we relate to each other." Curled up With a Good Book (blog)[Robert Olen Butler] is an excellent chronicler of the small domestic moments that create and destroy love." Patricia Henley, Sycamore Review
Grove Press, 9780802119872, 241pp.
Publication Date: August 6, 2011
or
Not Currently Available for Direct Purchase