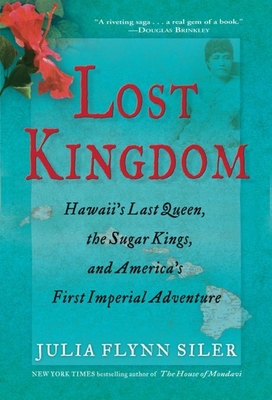 Lost Kingdom
Hawaii's Last Queen, the Sugar Kings, and America's First Imperial Adventure
Hardcover

* Individual store prices may vary.
Other Editions of This Title:
Paperback (1/8/2013)
MP3 CD (1/3/2012)
Description
Around 200 A.D., intrepid Polynesians arrived at an undisturbed archipelago. For centuries, their descendants lived with little contact from the western world. In 1778, their isolation was shattered with the arrival of Captain Cook. Deftly weaving together a memorable cast of characters, Lost Hawaii brings to life the ensuing clash between a vulnerable Polynesian people and relentlessly expanding capitalist powers. Portraits of royalty and rogues, sugar barons, and missionaries combine into a sweeping tale of the Hawaiian Kingdom's rise and fall. At the center of the story is Lili'uokalani, the last queen of Hawai'i. Born in 1838, she lived through the nearly complete economic transformation of the islands. Lucrative sugar plantations gradually subsumed the majority of the land, owned almost exclusively by white planters, dubbed the "Sugar Kings." Hawai'i became a prize in the contest between America, Britain, and France, each seeking to expand their military and commercial influence in the Pacific. The monarchy had become a figurehead, victim to manipulation from the wealthy sugar plantation owners. Lili'uokalani was determined to enact a constitution to reinstate the monarchy's power but was outmaneuvered by the U.S. The annexation of Hawai'i had begun, ushering in a new century of American imperialism.
Praise For Lost Kingdom: Hawaii's Last Queen, the Sugar Kings, and America's First Imperial Adventure…
A San Francisco Chronicle Bestseller

A sweeping tale of tragedy, greed, betrayal, and imperialism The depth of her research shines through the narrative, and the lush prose and quick pace make for engaging reading absorbing." Library Journal (Starred review)

Richlysourced [Siler is] able to color in many figures who had heretofore existed largely in outline or black and white a solidly researched account of an important chapter in our national history, one that most Americans don't know but should an 1893 New York Times headline called [the annexation] the political crime of the century.'" The New York Times Book Review

Julia Flynn Siler's Lost Kingdom: Hawaii's Last Queen, the Sugar Kings, and America's First Imperial Adventure is a well-told history of the U.S. acquisition of Hawaii. The central figure is Lili'uokalani, who had the misfortune of being queen when Uncle Sam closed his grasp on the islands." The Seattle Times

[A] well-researched, nicely contextualized history . . . It was indeed, as Siler characterizes it, one of the most audacious land grabs of the Gilded Age.'" LA Times

[Julia Flynn] Siler captures what Hawaii was then and what it has evolved into today. What happened to the islands is known as one of the most aggressive takeovers of the Gilded Age Siler gives us a riveting and intimate look at the rise and tragic fall of Hawaii's royal family [It] is a reminder that Hawaii remains one of the most breathtaking places in the world. Even if the kingdom is lost." Fortune

Siler rehearses the dark imperial history of how Americans first arrived in the islands, how they rose in power and how they deposed the queen and took everything This is mostly the story of white entrepreneurs and missionaries who came and conquered A well-rendered narrative of paradise and imperialism." Kirkus Review

This imperial land grab in our not so distant past is far too little known. I hope that Julia Flynn Siler's lively, moving, colorful account will help restore it to the place in our national memory where it ought to be." Adam Hochschild, author of To End all Wars: A Story of Loyalty and Rebellion, 1914-1918 and Kings Leopold's Ghost: A Story of Greed, Terror, and Heroism in Colonial Africa

Only one American state was formally a sovereign monarchy. In this compelling narrative, the award-winning journalist Julia Flynn Siler chronicles how this Pacific kingdom, creation of a proud Polynesian people, was encountered, annexed, and absorbed." Kevin Starr, Historian, University of Southern California, and author of California: A History

Siler skillfully weaves the tangled threads of this story into a satisfying tapestry about the late 19th-century death of a small nation [with] sympathetic detail." Publisher's Weekly

The takeover of Hawaii is a disturbing and dramatic story, deftly captured by Julia Flynn Siler [S]he vividly depicts a cast of characters driven by greed, desperation, and miscalculation How the queen lost her kingdom says as much about America and its new era of overseas expansion as it does about Hawaii."
T.J. Stiles, author of The First Tycoon: The Epic Life of Cornelious Vanderbilt, winner of the Pulitzer Price and National Book Award

Julia Flynn Siler's Lost Hawaii is a riveting saga about Big Sugar flexing its imperialist muscle Its impossible not to be impressed with the breadth of Silers fine scholarship. A real gem of a book." Douglas Brinkley, author of The Quiet World: Saving Alaskas Wilderness Kingdom 1879-1960

Too many Americans forget our island paradise" was acquired via a cynical, imperious land grab By the 1890s, American businessmen, especially the sugar kings," dominated the Hawaiian economy [C]ombined with the flowering of American naval ambitions, Hawaii's status as an independent kingdom was doomed. Siler's narrative concentrates on the efforts of Queen Lili'okalani to stave off American annexation. The missionary-educated [queen's] efforts to straddle both the modern and traditional Hawaiian worlds proved futile. This is a well-written, fast-moving saga." Booklist
Atlantic Monthly Press, 9780802120014, 415pp.
Publication Date: January 3, 2012
or
Not Currently Available for Direct Purchase