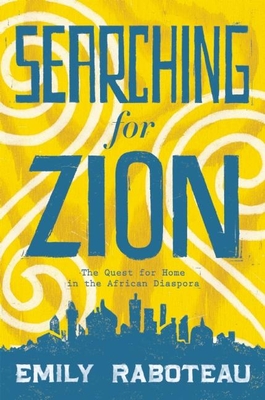 Searching for Zion
The Quest for Home in the African Diaspora
Hardcover

* Individual store prices may vary.
Other Editions of This Title:
Digital Audiobook (1/7/2013)
Paperback (2/11/2014)
Compact Disc (1/14/2014)
MP3 CD (10/1/2014)
MP3 CD (1/1/2013)
Compact Disc (1/1/2013)
MP3 CD (1/14/2014)
MP3 CD (1/22/2013)
Compact Disc (1/22/2013)
Description
A decade in the making, Emily Raboteau's Searching for Zion takes readers around the world on an unexpected adventure of faith. Both one woman's quest for a place to call "home" and an investigation into a people's search for the Promised Land, this landmark work of creative nonfiction is a trenchant inquiry into contemporary and historical ethnic displacement. At the age of twenty-three, award-winning writer Emily Raboteau traveled to Israel to visit her childhood best friend. While her friend appeared to have found a place to belong, Raboteau could not yet say the same for herself. As a biracial woman from a country still divided along racial lines, she'd never felt at home in America. But as a reggae fan and the daughter of a historian of African-American religion, Raboteau knew of Zion as a place black people yearned to be. She'd heard about it on Bob Marley's Exodus and in the speeches of Martin Luther King. She understood it as a metaphor for freedom, a spiritual realm rather than a geographical one. Now in Israel, the Jewish Zion, she was surprised to discover black Jews. More surprising was the story of how they got there. Inspired by their exodus, Raboteau sought out other black communities that left home in search of a Promised Land. Her question for them is same she asks herself: have you found the home you're looking for? On her ten-year journey back in time and around the globe, through the Bush years and into the age of Obama, Raboteau wanders to Jamaica, Ethiopia, Ghana, and the American South to explore the complex and contradictory perspectives of Black Zionists. She talks to Rastafarians and African Hebrew Israelites, Evangelicals and Ethiopian Jews, and Katrina transplants from her own family--people that have risked everything in search of territory that is hard to define and harder to inhabit. Uniting memoir with historical and cultural investigation, Raboteau overturns our ideas of place and patriotism, displacement and dispossession, citizenship and country in a disarmingly honest and refreshingly brave take on the pull of the story of Exodus.
Praise For Searching for Zion: The Quest for Home in the African Diaspora…
"Lucid and ranging . . . A brilliant illustration of the ways in which race is an artificial construct that, like beauty, is often a matter of perspective."The Wall Street Journal

"Brilliant . . . Raboteau's curiosity and keen intellect lead her to find more than she is seeking. . . . [Her] voice is as complex as her journey. Her descriptions are cogent and striking. Her irreverence and gumption provide comic relief."San Francisco Chronicle

"This is a beautifully written and thought-provoking book. My head gets blown off on every page. Though it describes Raboteau's very unique journey for her spiritual Zion, it's somehow wholly universal, too. Everywhere she goes, she hopes to find some straight and golden thread that would draw a line in the direction home, but instead she finds a tangle of humanity that refuses to adhere to any tidy narrative. An African-American named Robert E. Lee who lives in Ghana. Ethiopian Jews who find Jerusalem but not acceptance. And yet everyone she meets she renders with great deftness and empathya novelistic level of detail and understanding. I doubt there will be a more important work of nonfiction this year."Dave Eggers

Raboteau has written a poignant, passionate, human-scale memoir about the biggest things: identity, faith, and the search for a place to call home in the world. Searching for Zion is as reaching as it is intimate, as original as its old soul. I didn't want to put this beautiful book down."Cheryl Strayed

An instructive read . . . You don't stomp on any permanent ground if you're between black and white,' Rita Marley, Bob Marley's widow, tells [Raboteau] in Ghana. You don't have no grounds as a half-caste.' But there is a definite arc to Raboteau's book, and in her way, she proves Rita Marley wrong. She finds the ground she wants to make her own, and she sinks her roots there."The Boston Globe

[Raboteau's] detailed depictions flash with insight and beauty. A section on slave tourism in Ghana is frankly fascinating, as are the sections on visiting Birmingham, Ala., and Katrina-ravaged New Orleans."Los Angeles Times

"Informative, heartfelt . . . The rigor of Raboteau's journalistic work and her candid self-assessment . . . [are] thoughtful, well-researched, and deeply fascinating."The Washington Post

"Extraordinary . . . Beautifully written."Good.com

"Vivid . . . Ambitious . . . Frank and expansive."Chicago Tribune

"An exceptionally beautiful and well researched book about a search for the kind of home for which there is no straight route, the kind of home in which the journey itself is as revelatory as the destination. Go on this timely and poignant journey with Emily Raboteau and you will never think of home in the same way again."Edwidge Danticat

"I burned through this eye-opening book, utterly engaged with Raboteau's searchwhich is, after all, everyone's search. Raboteau presents a self full of contradictions, smoldering energy, and the willingness to lay it all bare. Searching for Zion is a glorious meditation on what it is to be alive."Nick Flynn

"Wholly original . . . Prepare to have your understanding of Zionism turned on its head."Catherine McKinley, author of Indigo

No quest for home is ever limited to a simple place, and [Raboteau] evokes that reality beautifully. . . . A fresh perspective [on the] elusive concept of home."Kirkus Reviews

"Profound and accessible . . . Her earnest, interior study is well worth the journey."Publishers Weekly

"Part political statement, part memoir, this intense personal account roots the mythic perilous journey in [Raboteau's] search for home. . . . Candid, contemporary . . . Never self-important, this is sure to inspire [a] debate about the search for meaning, whether it concerns 'the din of patriotism' or the lack of closure."Booklist
Atlantic Monthly Press, 9780802120038, 320pp.
Publication Date: January 1, 2013
About the Author
Emily Raboteau is the author of the critically acclaimed novel, The Professor's Daughter. Her fiction and essays have appeared in Best American Short Stories, Best African American Fiction, The Guardian, Oxford American, Tin House and elsewhere. Recipient of numerous awards including a Pushcart Prize and a Literature Fellowship from the National Endowment for the Arts, Raboteau also teaches creative writing at The City College of New York in Harlem.
or
Not Currently Available for Direct Purchase