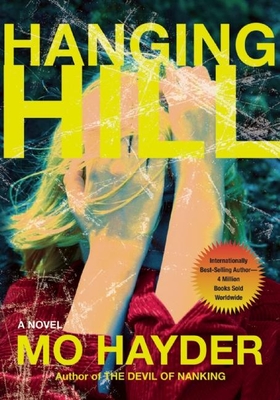 Hanging Hill (Hardcover)
Atlantic Monthly Press, 9780802120069, 432pp.
Publication Date: February 7, 2012
* Individual store prices may vary.
or
Not Currently Available for Direct Purchase
Description
Mo Hayder, internationally best-selling author of "Skin" and "Gone," has firmly established her reputation as a master of gritty, gripping page-turners. Fast-paced and addictive, her latest, "Hanging Hill," centers around a pair of estranged sisters, one a policeman, and the gruesome homicide of a teenage beauty which leads them deeper than they ever anticipated into an underground world of sex and violence.
One morning in picture-perfect Bath, England, a teenage girl's body is found on the towpath of a canal. Lorne Woodbeautiful, popular, and apparently the victim of a brutal murder. Why was she on the towpath late at night alone? Zoe BenedictHarley-riding police detective, independent to a faultis convinced the department head needs to look beyond the usual domestic motives to solve the case. Meanwhile Zoe's sister Sallyrecently divorced and supporting a daughter who was friends with the dead girlhas begun working as a housekeeper for a rich entrepreneur who quickly begins to seem less eccentric than repugnant, and possibly dangerous. When Zoe's investigation uncovers evidence that Lorne's attempts to break into modeling had delivered her into the world of webcam porn, a crippling secret from Zoe's past seems determined to emerge.

Praise For Hanging Hill…
Praise for Hanging Hill

Bad people, but great writing . . . Hayder, whose new novel Hanging Hill continues her astonishing string of brilliant, hypnotically readable mysteries, is part of a golden era of literary crime novels. . . . Hanging Hill features an ending so shocking it may reverberate through you long after you've finished the book. . . . Yes, the ending is a surprisebut it's the implication of that ending, spiraling off in horrific directions, that rocks you back in your seat."Julia Keller, Chicago Tribune

Readers would be making a mistake if they overlooked the masterful British crime writer Mo Hayder's new novel Hanging Hill. . . . Hayder . . . bring[s] this superbly plotted tale to an end more alarming than anything that comes before."Sherryl Connelly, New York Daily News

Mo Hayder is emerging as one of the best crime writers in Britain. She consistently delivers original plots, with solid characters and fascinating, eccentric premises. Hanging Hill is . . . classic Hayder."Margaret Cannon, The Globe & Mail

[Hayder] has in no way lost her ability to shock, thrill, entertain and occasionally torture us with her use of words. . . . A chiller to the very end. Hayder deals with Britain at its grittiest."Peter Millar, The Times (London)

A suspenseful, fast-paced thriller. . . . Mo Hayder's tightly plotted Hanging Hill keeps the suspense taut, and the characters are realistic and multifaceted. . . . Hanging Hill is finely put together and entirely satisfyingat least until the terrifying ending, which uproots the safe feeling of resolution into which the reader was lulled."Julia Jenkins, Shelf Awareness (online)

Hanging Hill is an authentically disturbing, gripping winner."Christopher Fowler, Financial Times

Nobody concludes a novel quite the way Mo Hayder does: with a revelation that leaves the reader staring at the page, poleaxed, willing more words to appear or flicking back to see just how she did it. . . . Here, as always, a Hayder plot that seems straightforward is masterfully skewed."Anna Mundow, Barnes & Noble Review (online)

Mo Hayder has crafted a powerful and frightening thriller that grips the reader from page one to the blood-freezing shock of the final page. Utterly compelling." Irish Independent

In this superb stand-alone from British author Hayder, the brutal murder of 16-year-old Lorne Wood, found dead in a park with words written on her corpse, draws together the Benedict sisters, Zoë and Sally, who have been estranged for years. . . . Secrets, both past and present, bid the sisters yet threaten to ruin multiple lives. Hayder uses her trademark violence to perfect sinister effect." Publisher's Weekly (starred review)

Hayder's latest roller-coaster ride into the heart of darkness. . . . The fascinating Zoe would make a fine series lead. Hayder's acclaim in the genre . . . stands only to grow in the wake of her latest triumph."Elliott Swanson, Booklist (starred review)

This Brit rising star pens character-driven anti-thrillers, where tension is subtly ratcheted into a lingering pall of menace. . . . To call the ending a cliffhanger is to denigrate the cliff. Prepare to be pushed offand pole-axed. Top-notch."John Sullivan, Winnipeg Free Press

Hayder will keep you up at night." Library Journal

This book isn't for the faint of heart. It is, however, a hell of an exciting read for those who enjoy shocker-thrillers. . . . A remarkable accomplishment."Lawrence Kane, ForeWord Magazine
Advertisement