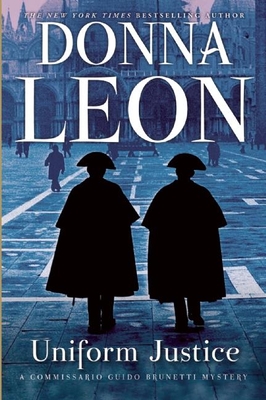 Uniform Justice (Commissario Guido Brunetti Mysteries) (Paperback)
Grove Press, 9780802120298, 258pp.
Publication Date: June 4, 2013
* Individual store prices may vary.
Description
Venetian detective Commissario Guido Brunetti is called to investigate the death of a young cadet. The boy has been found hanged, a presumed suicide, in Venice's elite military academy. Brunetti's sorrow for the boy, so close in age to his own son, is rivaled only by his contempt for a community that is more concerned with protecting the reputation of the school, and its privileged students, than understanding this tragedy. The young man is the son of a doctor and former politician, a man of an impeccable integrity all too rare in Italian politics. Dr. Moro is clearly and understandably devastated by his son's death; but while both he and his apparently estranged wife seem convinced that the boy's death could not have been suicide, neither appears eager to talk to the police or involve Brunetti in any investigation of the circumstances in which he died. As Brunetti pursues his inquiry, he is faced with a wall of silence. Is the military protecting its own? And what of the other witnesses? Is this the natural reluctance of Italians to involve themselves with the authorities, or is Brunetti facing a conspiracy far greater than this one death?
About the Author
Donna Leon is the author of the international best-selling Commissario Guido Brunetti series. The winner of the CWA Macallan Silver Dagger for Fiction, among other awards, Leon was born in New Jersey and has lived in Venice for thirty years.