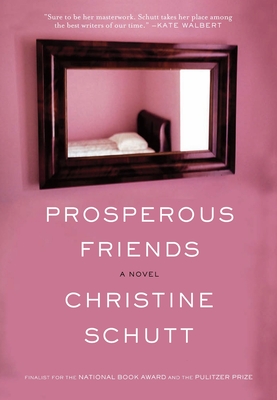 Prosperous Friends (Hardcover)
Grove Press, 9780802120380, 205pp.
Publication Date: November 6, 2012
Other Editions of This Title:
Paperback (11/12/2013)
* Individual store prices may vary.
Description
Described by John Ashbery as "pared down but rich, dense, fevered, exactly right and even eerily beautiful," Christine Schutt's prose has earned her comparisons to Emily Dickinson and Eudora Welty. In her new novel, Schutt delivers a pitch-perfect, timeless and original work on the spectacle of love. Prosperous Friends follows the evolution of a young couple's marriage as it is challenged by the quandaries of longing and sexual self-discovery. The glamorous and gifted Ned Bourne and his pretty wife, Isabel, travel to London, New York, and Maine in hopes of realizing their artistic promise, but their quest for sexual fulfillment is less assured. Past lovers and new infatuations, doubt and indifference threaten to bankrupt the marriage. The Bournes' fantasies for their future finally give way to a deepened and mature perspective in the company of an older, celebrated artist, Clive Harris, and his wife, Dinah, a poet. With compassionate insight, Schutt explores the divide between those like Clive and Dinah who seem to prosper in love and those like Ned and Isabel who feel themselves condemned to yearn for it.
About the Author
Christine Schutt is the author of two collections of stories, Nightwork and A Day, A Night, Another Day, Summer. She is also the author of the novels Florida, a National Book Award finalist, and All Souls, a finalist for the Pulitzer Prize.
Praise For Prosperous Friends…
Praise for PROSPEROUS FRIENDS:

"Sinewy, unsentimental . . . Schutt depicts [Isabel's] rattled consciousness with quick, painterly strokesa glancing, impressionistic style that owes a happy debt to Virginia Woolf. . . . Schutt has formed genuine moments of beauty and hope."The Wall Street Journal

"[Schutt] has honed a language that feels wholly hers: a carefully cadenced poetic prose that warrants being read reverently, aloud. . . . Prosperous Friends proves Schutt to be one of the finest stylists alive. . . . Reading Schutt's prose is like listening to music: beneath its manifest meaning, her language is full of ther, ineffable messages, encrypted in rhythms and melodies. . . . It isn't so much that Schutt succeeds in making order from chaosshe knows that she can't, we can't, no one can. So she says, once you've failed, go on living: make order from failure."Los Angeles Review of Books

"A disposition to illuminate peaks of cognizance amid humdrum circumstances invests Schutt's latest novel, Prosperous Friends with an almost electrical charge. . . . Schutt has a delicate eye for the visceral. Like a Pre-Raphaelite painter, she shines unnatural light on natural things to disconnect and unbalance viewers. . . . In her brevity and elevated pitch, her sentences sound ready to pounce upon intimate disclosure. Like [Henry] James, Schutt penetrates to the core energies of human drama with a pointillist's touch; feeling is lent graceful shape, less readily apprehensible, but ultimately more incisive. . . . Prosperous Friends presses adventurously against mere telling's quotidian restrictions and attempts to enact 'the lyrical impulses of the soul.'"Bookforum

"Prosperous Friends was another revelation this year, a devastating story of young love, old love, and no love, written with a razor, it would seem, on living skin."The New Yorker (Best Books of 2012, P.S.)

"With terse sentences that read like poetry, Schutt strips each scene of excess context and cuts to the heart of the moment. Her prose evokes emotions more vital to the novel: frustration and despair juxtaposed with understanding and desire. The characters instantly come to life with a clever turn of phrase or a well-crafted sentence. . . . In a collection of carefully thought-out moments, Schutt's haunting yet lyrical words linger long after the final page."Los Angeles Times

Artful . . . Astonishing . . . Piercingly real . . . The poetic concision and allusiveness of [Schutt's] prose give the story more heft than a mere two-hundred pages would suggest. . . . Her sentences never waste a phrase or even a word. In these finely cut scenes . . . Schutt deals killing blows with such short, precise movements that at first you barely register the wound."The Washington Post

"By turn poetically mesmeric and brutally unsentimental . . . [Schutt] beguiles us with . . . forensic attention to detail. . . . Schutt's writing dazzles while it disorients. This is a beautiful but disquieting novel about broken vows and hearts."Star Tribune (Minneapolis)

"[A] powerful work of craftsmanship . . . While her sentences are lyrical and flowingshe is perhaps the single best practitioner of the acoustical clustering technique described as 'consecution'her scenes tend to be stripped down and brutally juxtaposed. . . . Prosperous Friends is intimate and alien as a dream. Like poerty, it rewards careful reading, and though brief, the questions it raises linger, unanswerable and self-complicating."The New York Observer

"Lovely and unpredictable . . . An unsettling book that is by turns grim, scathing, and droll. Watching it unfold in the presence of an author who is part poet and part sculptor is its own reward."Portland Press Herald

"Christine Schutt's slender yet powerful novel examines modern love with a poet's insight."Barnes & Noble Review

"Schutt is a writers writer whose elegant prose seems like chiseled diamond."Library Journal

"Prosperous Friends is masterful, a comic-tragic astonishment. Christine Schutt continues to write some of the most original and rewarding prose I've ever read."Sam Lipsyte

"Delicate prose, fearless storytelling...exquisitely wrought...Schutt lets readers feel the yearning sadness of a love that never quite happens...spare but lyrical."Chapter 16 Blog

"Feeding off Chekhov, Wilder, O'Neill, and the emotional electricity of live theater, Christine Schutt stages her own brand of parlor drama in Prosperous Friends. . . . Schutt prodes prosperity's margin of error: free spirits who've pissed away entire legacies, scions sweating out trusts and entanglements, and fatalistic women who leverage sex and cohabitation as a means to financial security. With its well-bred, art-damaged Gothicismand a bewitching knack for appearing both full-frontal and obliqueSchutt's prose may have no closer counterpart than the lyrics of P. J. Harvey. . . . At root, Prosperous Friends may be a knotty comedy or a confounding dramawhich is, in all likelihood, the living truth."Paste

No one writes sentences like Christine Schutt. Prosperous Friends is sure to be her masterwork. Like Fitzgerald's Tender Is the Night, Schutt's por¬trait of a young couple in ruins is exquisitely beautiful, stunningly resonant, and so minutely and vividly observed you feel devastated at its close. With Prosperous Friends, Schutt takes her place among the best writers of our time."Kate Walbert

Why do we love one, and not another? Christine Schutt's beautifully telegraphic prose goes to the heart of a question posed in scenes and moments so real and exquisitely framed that the reader enters her vision completely. Elliptical, haunting, perfectly pitched, Prosperous Friends re-defines itself as it unfolds, changing and transforming, alive with truths and questions. Schutt demands our meditation, our intimate consideration, our awe."Jayne Anne Phillips

"Clever . . . Unorthodox . . . Schutt rips the facade off marriage."California Literary Review

It is no longer a secret that Christine Schutt is the finest writer among us, and Prosperous Friends is her finest work yet. There isn't a corner in any of her sentences left ungraced by her lyrical genius, her heart-fathoming wisdom. A few pages in, you'll know you have a classic in your hands.Gary Lutz

Christine Schutt casts the light of her brilliant prose into the shadowy corners of marriage and sex, aging and art-making, wealth and aspiration. What she finds there is thrilling, dangerous, true: impossible to forget. This is a moving, luminous novel, its radiance all the more striking for the darkness it's willing to explore."Sarah Shun-lien Bynum

"With her elusive, suggestive prose, Christine Schutt examines the mystery of one couple's dissolution. In its spare delicacy, Prosperous Friends recalls nothing less than James Salter's Light Years."Stewart O'Nan

Give me the tough, adamantine beauty of Christine Schutt's writing any day. Her new novel, Prosperous Friends, is about that, about friends, and their marriages, and within the eddy of these various enterprises, within the many come-hithers and get-thee-gones, is a character at once Isabel Stark and Isabel Bourne. It's Portrait of a Lady one hundred and thirty years on, except it's all incisively new, and it's Christine Schutt at her finest." Michelle Latiolais

"Poignant . . . Schutt creates noteworthy texture with what she withholds . . . making for abrupt juxtapositions, vivid moments, and terse language, the sum of which feels fittingly reflective of the [book's central] relationship itself." Publishers Weekly
or
Not Currently Available for Direct Purchase