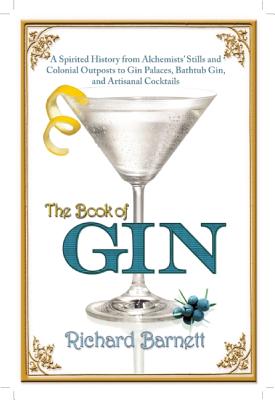 The Book of Gin
A Spirited World History from Alchemists' Stills and Colonial Outposts to Gin Palaces, Bathtub Gin, and Artisanal Cock
Hardcover

* Individual store prices may vary.
Other Editions of This Title:
MP3 CD (5/31/2016)
Description
Gin has been a drink of kings infused with crushed pearls and rose petals, and a drink of the poor flavored with turpentine and sulfuric acid. Born in alchemists' stills and monastery kitchens, its earliest incarnations were juniper flavored medicines used to prevent plague, ease the pains of childbirth, even to treat a lack of courage.

In The Book of Gin, Richard Barnett traces the life of this beguiling spirit, once believed to cause a new kind of drunkenness." In the eighteenth century, gin-craze debauchery (and class conflict) inspired Hogarth's satirical masterpieces Gin Lane" and Beer Street." In the nineteenth century, gin was drunk by Napoleonic War naval heroes, at lavish gin palaces, and by homesick colonials, who mixed it with their bitter anti-malarial tonics. In the early twentieth century, the illicit cocktail culture of prohibition made gin often dangerous bathtub ginfashionable again. And today, with the growth of smallbatch distilling, gin has once-again made a comeback.

Wide-ranging, impeccably researched, and packed with illuminating stories, The Book of Gin is lively and fascinating, an indispensible history of a complex and notorious drink.
Praise For The Book of Gin: A Spirited World History from Alchemists' Stills and Colonial Outposts to Gin Palaces, Bathtub Gin, and Artisanal Cock…
"An absorbing popular history of one of history's most popular drinks. A well-balanced blend of popular history and scholarship, written in a style as dry and bracing as its subject." Keir Graff, Booklist

"A myriad of interesting facts, along with social commentary and historical information... Having awakened our thirst, Barnett reminds us that after five centuries now is the best time to enjoy gin." The Scotsman (UK)

"From the very beginnings of genever production, Barnett takes us on a colourful journey through gin's history and its intersection with culture: from the contention in 1310 that spirits might contain the essence of sunshine; distilled by vines into their fruits, through wars, world exploration, and global trade, to the Dutch Golden Age and the Roaring Twenties, to its current renaissance in the cocktail world. The urban, gritty tales are as entertaining as they are informative, involving intriguing characters and delving into the works of Daniel Defoe, William Hogarth, Charles Dickens and - of course - Ian Fleming's James Bond. It's rare that a book so catches our attention at Class, but this is a must-read for those who loves gin: it's not just a geeky companion for nerds, but a truly enjoyable history for anyone who likes to end the working day with a G&T." Class Magazine (UK)

Mr. Barnett takes the reader on a historic journey from the City States of Italy at the end of the Dark Ages to the gin fueled dance floors of the Stork Club and El Morocco in New York City. We get a peek into the gin revival among growing artisan distillers movement in the new millennium. If you love a classic gin martini pour yourself one and tuck into this fascinating story Oh, and make sure the gin bottle is full."Dale Degroff, aka King Cocktail," founder and president of The Museum of the American Cocktail, and author of The Craft of the Cocktail

Few drinks have haunted society as starkly as gin In The Book of Gin, Richard Barnett artfully charts the aromatic distillate's unlikely path from medicine to public menace, blending references as varied as the Archidoxa of Paracelsus and Mad Men to create a nuanced portrait of the drink and its impact on humanity. The titular subject of Barnett's book may be a distillate, but gin owes its life to the men and women who produced, promoted, consumed and condemned it, from William III to James Bond. The most lyrical of their names and stories pepper Barnett's story like bursts of poetry."The Times Literary Supplement

"Well-balanced and bracingly smooth, Richard Barnett's The Book of Gin is equal parts rich and intoxicating narrative mixed with an entertaining and wholly accessible era-spanning history of one of the world's most storied spirits."Brad Thomas Parsons, author of Bitters: A Spirited History of a Classic Cure-All

How can you not want to indulge in gin both the drink and this book for as author Richard Barnett points out, gin is a seemingly inexhaustible vehicle for myth-making and story-telling.' From medieval alchemy to London's notorious Gin Lane to glamorous Hollywood cocktail parties, our most able raconteur Barnett provides insight into how gin became an unabashed icon and serves as a metaphor for Western culture."Peter Krass, author of Blood & Whiskey: The Life and Times of Jack Daniel's

"Mr. Barnett's research if fairly astonishing. With every few turns of the page, he conjures up obscure primary sources to illustrate gin's genealogy. Drawing from acts of Parliament, temperance tracts, Gordon's Gin advertisements and Hollywood films, Mr. Barnett punctuates his tale with the language and imagery of the many eras of gin's history."L. Kenna, The Washington Times
Grove Press, 9780802120434, 304pp.
Publication Date: December 4, 2012
Coverage from NPR
or
Not Currently Available for Direct Purchase