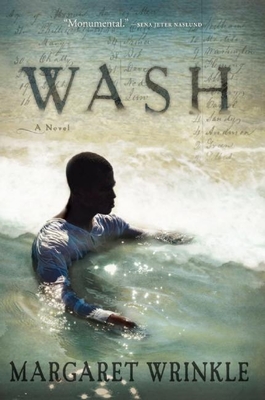 Wash
Hardcover

* Individual store prices may vary.
Other Editions of This Title:
Paperback (11/12/2013)
Description
In this luminous debut, Margaret Wrinkle takes us on an unforgettable journey across continents and through time, from the burgeoning American South to West Africa and deep into the ancestral stories that reside in the soul. Wash introduces a remarkable new voice in American literature. In early 1800s Tennessee, two men find themselves locked in an intimate power struggle. Richardson, a troubled Revolutionary War veteran, has spent his life fighting not only for his country but also for wealth and status. When the pressures of westward expansion and debt threaten to destroy everything he's built, he sets Washington, a young man he owns, to work as his breeding sire. Wash, the first member of his family to be born into slavery, struggles to hold onto his only solace: the spirituality inherited from his shamanic mother. As he navigates the treacherous currents of his position, despair and disease lead him to a potent healer named Pallas. Their tender love unfolds against this turbulent backdrop while she inspires him to forge a new understanding of his heritage and his place in it. Once Richardson and Wash find themselves at a crossroads, all three lives are pushed to the brink.
Praise For Wash…
"A masterly literary work . . . Wrinkle's novel does not allow us to draw easy correlations but invites us to consider the painful inheritance and implications of such a horrendous moment in American history. Rather than disapproving opprobrium and diatribes, this debut occasions celebration. Haunting, tender and superbly measured, Wash is both redemptive and affirming." Major Jackson, The New York Times Book Review

"[An] unflinching, stunningly imagined debut." Vanity Fair

"A marvel. By turns grim and lyrical, heart-wrenching and hopeful." People (four stars; a People Pick)

"A powerful novel." O, the Oprah Magazine (one of "Ten Titles to Pick Up Now")

"The voices of the past can't speak for themselves and must rely on the artists of the future to honor them. It's a profound responsibility and one that Margaret Wrinkle meets in her brilliant novel Wash. She shows not only the courage to submerge herself in the Stygian world of plantation slavery but also the grace and sensitivity to bring that world to life . . . Narrative roles are given to Wash, fellow slaves and his succession of masters, creating a dense, hypnotic ensemble of voices similar to the effect achieved in Peter Matthiessen's momentous retelling of the life of a Florida sugar plantation owner, Shadow Country . . . It's from patriarchs like Wash as well as like Richardson, Ms. Wrinkle shows, that the U.S. was born." Sam Sacks, The Wall Street Journal

"Amazing . . . Never has a fictionalized window into the relationship between slave and master opened onto such believable territory . . . Wash unfolds like a dreamy, impressionistic landscape . . . [A] luminous book." Atlanta Journal Constitution

"A lyrical story of courageous human beings transcending the cruelty and degradation of their slave-holding society." The Dallas Morning News

"The history of the South provides plenty of tense, complicated material. Even subjects we think we know well can often reveal new stories in the hands of a talented author. Margaret Wrinkle's debut novel Wash is one of those stories." Jackson Free Press

"[A] profound debut novel that takes readers on a journey into a past that left an inevitable mark in America's history . . . Wash is a powerfully haunting tale about the captor and captive. It offers a look at both through their own narrative form expressing their true feeling." Birmingham Times

"[Wrinkle] plumbs beyond the brutality and into the wisdom of the ages to compose an elegiac yet surprisingly uplifting portrait of the resilience of the human spirit. . . . Wash is a solemn and magnificent paean to the survivaleven amid the most crushing, inhumane conditionsof the special and eternal essence within every soul." Shelf Awareness

"In this deeply researched, deeply felt debut novel, documentarian Wrinkle aims a sure pen at a crucial moment following America's War of Independence. . . . The novel well evokes the tragedy not only of [its] lovers' untenable positions, but also that of their master and his fragile country." Publishers Weekly (starred review)

"Wrinkle bears witness to the inhumanity of slavery . . . A moving and heart-rending novel." Kirkus Reviews

"Heart-rending . . . Wrinkle has written a remarkable first novel, one that will haunt readers with the questions it raises, and the disturbing glimpse it offers into an unfathomable world." Booklist

"Wrinkle has spotlighted a crucial era in the American experience, writing with grace and intelligence." New York Journal of Books

"Wrinkle masterfully takes us on a powerful journey through the darkest past and present of this country, boldly addressing the chasm of racial divide with the scalpel of a gruesome truth. Wash is the epitome of courage and determination to heal the central wound of this culture." Malidoma Patrice Somé, author of The Healing Wisdom of Africa

"Wash is bold, unflinching, and when finished, certain to haunt the reader for a long, long time." Ron Rash, author of Serena and The Cove

"Boldly conceived and brilliantly written, Margaret Wrinkle's Wash reveals the horrible human predation of slavery and its nest of nightmares. With a truthfulness even beyond Faulkner, Wrinkle makes her novelistic debut in a monumental work of unflinching imagination." Sena Jeter Naslund, author of Ahab's Wife, Four Spirits, Abundance, and Adam and Eve

"Margaret Wrinkle's Wash is a marvelous window into the world of nineteenth century American slaverya powerful fusion of knowledge and imagination." Madison Smartt Bell, author of All Souls Rising, Master of the Crossroads, and The Stone that the Builder Refused

"A significant and hugely troubling book." Pinckney Benedict, author of Miracle Boy, Town Smokes, The Wrecking Yard, and Dogs of God

"This majestic, beautifully-written novel will both break your heart and make it wiser." Charles Gaines, author of Stay Hungry, Pumping Iron, A Family Place, and The Next Valley Over

"This exquisite novel is a gift of healing. It exposes the dark and fearsome sin that stains our history, and confronts the guilt that lurks in our collective American soul. But in the genius of the telling we are led to the tenderness at the bone, the humanity at the core, and buoyed by joy." Beverly Swerling, author of Bristol House

"A unique and powerful story, Wash tells a chapter of our past that we would rather look away from. Margaret Wrinkle makes sure that we cannot. Her whole life has led up to this book, and she writes it in a sure and captivating voice, augmented by her remarkable pictures." Kevin Baker, author of Strivers Row, Dreamland, and Paradise Alley
Atlantic Monthly Press, 9780802120663, 408pp.
Publication Date: February 5, 2013
About the Author
Born and raised in Birmingham, Alabama, Margaret Wrinkle is a writer, filmmaker, educator, and visual artist. Her award-winning documentary, broken\ground, about the racial divide in her historically conflicted hometown, was featured on NPR's Morning Edition and was a winner of the Council on Foundations Film Festival.
or
Not Currently Available for Direct Purchase