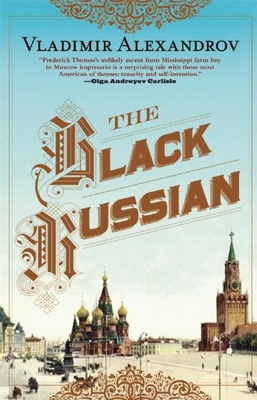 The Black Russian (Hardcover)
Atlantic Monthly Press, 9780802120694, 304pp.
Publication Date: March 5, 2013
Other Editions of This Title:
Digital Audiobook (8/14/2013)
Paperback (4/8/2014)
Compact Disc (8/15/2013)
MP3 CD (8/15/2013)
Compact Disc (8/15/2013)
* Individual store prices may vary.
Description
The Black Russian is the incredible true story of Frederick Bruce Thomas, born in 1872 to former slaves who became prosperous farmers in Mississippi. After his father was brutally murdered, Frederick left the South and worked as a waiter in Chicago and Brooklyn. Seeking greater freedom, he traveled to London, then crisscrossed Europe, and--in a highly unusual choice for a black American at the time--went to Russia. Because he found no color line there, Frederick settled in Moscow, becoming a rich and famous owner of variety theaters and restaurants. When the Bolshevik Revolution ruined him, he barely escaped to Constantinople, where he made another fortune by opening celebrated nightclubs as the "Sultan of Jazz." However, the long arm of American racism, the xenophobia of the new Turkish Republic, and Frederick's own extravagance landed him in debtor's prison. He died in Constantinople in 1928.
About the Author
Vladimir Alexandrov received a Ph. D. in comparative literature from Princeton. He taught Russian literature and culture at Harvard before moving to Yale, where he is B.E. Bensinger Professor of Slavic Languages and Literatures. He is the author of books on Bely, Nabokov, and Tolstoy, and has published numerous articles on various other Russian writers and topics.
Praise For The Black Russian…
"Magnetizing and unforgettable . . . In his assiduously researched, prodigiously descriptive, fluently analytical, and altogether astonishing work of resurrection, Alexandrov provides uniquely focused accounts of racial struggles in America and decadence and bloodshed in Europe and Russia while insightfully and dynamically portraying a singular man." Booklist (starred review)

"A wild life of intrigue, deception and beating the odds . . . [Frederick] Thomas' story is certainly interesting, particularly since he was able to thrive in Europe in a way most African-American men of his generation couldn't dream of. . . . [The Black Russian is] a good choice for those who enjoy reading about life's underdogs." Kirkus Reviews

"[A] gracefully written feat of historical sleuthing. . . . Through prodigious archival research, historical scholarship and painstaking reconstruction of secondhand accounts, [Alexandrov] has drawn a moving and vivid portrait of a remarkable American life." San Francisco Chronicle

"With so much focus on the black experience in America in the 19th century, we might never consider the black experience in Europe at the same time. Vladimir Alexandrov's The Black Russian rectifies this oversight, and does so with panache. His tale is the biography of an individual who is wholly remarkable, regardless of race, and whose vitality, guile, and charm led him from Mississippi to Moscow, with plenty of adventures along the way. . . . Alexandrov transports the reader to an exotic era. Some of the most memorable parts of Thomas's life story lie in the incidental grace notes that add color to the lands through which he traveled." The Daily Beast

"It is a testament to Thomas's unlikely success in Moscow, but also to Alexandrov's frisson-inducing account of myriad adventures along the way, that The Black Russian emerges as deeply satisfying despite its subject's woebegone end. . . . By its very nature, the victory of an underdog has a restorative effect on flagging enthusiasm in life's opportunities. And what triumph against the odds could prove more rousing than that of Frederick Bruce Thomas . . . [who] becomes the king of nightlife?" Brooklyn Rail

"A compelling narrative of [a] powerful and complex man." Shelf Awareness

"Although Alexandrov constructed this vessel with sturdy timbers of historical research, it sails lightly on a swift narrative current that transports us from Reconstruction Mississippi to Memphis, New York City, London, Paris, Moscow and, finally, Constantinople. . . . Alexandrov excels at recreating the various worlds Thomas inhabitedfrom his restricted existence during Reconstruction to his glittering fast-lane life on the Continent. . . . What [Thomas's] life illustrates, as Alexandrov skillfully and gracefully shows, is that when people are unshackled from slaveriesof whatever sortfreedom's buoyancy can lift them to surprising heights, can offer miraculous views." Cleveland Plain Dealer

"A remarkable story about a formidable man. A story Alexandrov has uncovered, and masterfully told." Winnipeg Free Press

"This well-written book is about one of the most fascinating black men of modern times. Like Jack Johnson, Frederick Thomas was a brilliant, proud and ambitious black man who experienced the heights of success and the depths of failurein a foreign land. Don't miss this masterful work!" Cornel West, author of Race Matters

"In The Black Russian, Vladimir Alexandrov provides a powerful counter-narrative to the conventional Great Migration story of southern blacks migrating North en masse in the decades after the Civil War. He tells instead the tale of Frederick Bruce Thomas, son of a slave, who left the United States to hopscotch through Europe, proceeding from London south to the Riviera and then east to Moscow, before ending his days in Constantinople. Armed with a single but formidable skillthat of southern hospitalityThomas progressed from waiting tables to serving as maitre d'hotel in fancy restaurants, to opening his own glitzy night clubs. In assembling the facts of Thomas's story, Alexandrov relates in vivid detail the political, financial, and emotional highs and lows of this man's incredible life." Carla L. Peterson, author of Black Gotham: A Family History of African Americans in Nineteenth-Century New York City

"As a reader, I found myself fascinated by this well-written story. As a writer, I found myself envious of Vladimir Alexandrov for having discovered such a remarkable man whose life, both triumphant and tragic, spans continents, wars and a revolutionand whom no one seems to have noticed before. An extraordinary and gripping book." Adam Hochschild, author of To End All Wars: A Story of Loyalty and Rebellion, 1914-1918

"A spirited tale of bucking the tides of history, every bit as colorful as it seems improbable." Stacy Schiff, author of Cleopatra: A Life, a New York Times Book Review Top 10 Books of the Year

"A fascinating tale of culture clash and historical change, researched with energy and written with verve." Anne Applebaum, Pulitzer Prize-winning author of the international best-seller, Gulag: A History

"In The Black Russian, Vladimir Alexandrov tells the keenly researched and vividly written story of one of the more extraordinary characters in African-American history. Alexandrov deftly brings to life the succession of complex milieus in the United States, France, Russia, and Turkey in which Frederick Bruce Thomas achieved both his improbable successes and his haunting defeats. This is a tale to remember." Arnold Rampersad, author of Ralph Ellison: A Biography

"As the granddaughter of a family that escaped from Russia because of the Bolshevik Revolution, I read The Black Russian in one sitting. Vladimir Alexandrov has done more than tell the story of a forgotten man, he has woven a fascinating tapestry of Moscow life before the October Revolution. The reader is offered a unique front-row seat to Moscow's Pre-Revolutionary beau monde and a hair-raising escape days before the Bolshevik takeover. Frederick Thomas's unlikely ascent from Mississippi farmboy to Moscow impresario is a surprising tale with those most American of themes: tenacity and self-invention." Olga Andreyev Carlisle, author of Solzhenitsyn and the Secret Circle

"That truth is ever stranger than fiction is underscored by the story of Frederick Bruce Thomas. The highs and lows of Thomas's unlikely life journey are skillfully unfurled by Vladimir Alexandrov." Elizabeth Dowling Taylor, author of A Slave in the White House: Paul Jennings and the Madisons

"Hang on for the ride of a lifetime. With the verve of a novelist, historian Alexandrov takes one on an adventure through pre-war Mississippi, London, Paris, Tsarist Russia and the Bolshevik Revolution, ending up in decadent Constantinople." John Bailey, author of The Lost German Slave Girl: The Extraordinary True Story of Sally Miller and Her Fight for Freedom in Old New Orleans
or
Not Currently Available for Direct Purchase