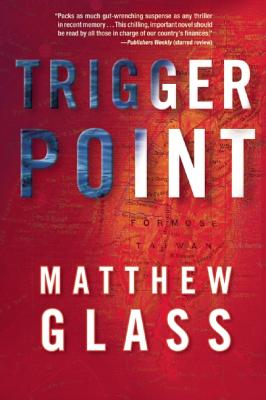 Trigger Point
Paperback

* Individual store prices may vary.
Other Editions of This Title:
MP3 CD (5/17/2016)
Hardcover (3/6/2012)
Description
"Glass's terrific geopolitical thriller packs as much gut-wrenching suspense as any thriller in recent memory . . . Glass expertly assembles the interlocking pieces of his frighteningly prophetic puzzle. This chilling, important novel should be read by all those in charge of our country's politics and finances."Publishers Weekly

The year is 2018. The United States has finally emerged from the previous decade's wars in Iraq and Afghanistan and the economic recession that threatened to tear the country apart. Eighteen months into his first term, President Tom Knowles sees a chance to put his stamp on world affairs when thirty-two American aid workers are massacred in Uganda by a group of rebel partisans. Knowles decides to send in troops into an area that China considers its African sphere of influence. Privately, the message from the Chinese is keep out. Publicly, they can only stand by and watch.

Six weeks later, stock prices on Wall Street are plummeting. Rumors of insolvency haunt a major investment bank, which is leading the rout. When the bank refuses a government bailout, and it becomes known that the Chinese state-run People's Investment Corporation is its major shareholder, the stock-marker slide turns into a panic. Are United States stock prices being manipulated by the Chinese government? As the president's team takes drastic action to protect the U.S. economy, the Chinese government strikes back to protect its interests, and the confrontation shifts rapidly from Wall Street to Africa, where American and Chinese forces stand eye to eye. Who will blink first?

An economic and geopolitical thriller from a writer described as the heir to Tom Clancy and Michael Crichton, Trigger Point moves from the Oval Office to Africa to Beijing and paints a terrifying portrait of where we may be headed.
Grove Press, 9780802120717, 412pp.
Publication Date: February 19, 2013
About the Author
Matthew Glass remains anonymous--many have speculated that he might be an insider who cannot reveal his true name. The critically acclaimed "Ultimatum," his first novel, was published in 2009. He is believed to live somewhere in the United Kingdom.