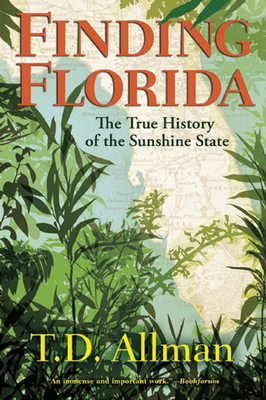 Finding Florida: The True History of the Sunshine State (Hardcover)
The True History of the Sunshine State
Atlantic Monthly Press, 9780802120762, 556pp.
Publication Date: March 5, 2013
* Individual store prices may vary.
or
Not Currently Available for Direct Purchase
Description
Over its long history, Florida has been many things: a native realm protected by geography; a wilderness that ruined Spanish conquistadors; a place to start over; "god's waiting room." With a native population as high as 900,000 (who all died), it became a pestilential backwater with a few thousand inhabitants, but today is our fourth most populous state, with nineteen million. The site of vicious racial violence, including massacres, slavery, and the roll-back of Reconstruction, Florida is now one of our most diverse states, a dynamic multicultural place with an essential role in 21st century America.

However, the remarkable story of Florida has been distorted and whitewashed. In Finding Florida: The True History of the Sunshine State, journalist T.D. Allman reclaims this remarkable history from the mythologizers, apologists, and boosters.

Allman traces the discovery, exploration, and settlement of Florida, its transformation from a swamp to a paradise. Palm Beach, Key West, Miami, Tampa, and Orlando boomed, fortunes were won and lost, land was stolen and flipped, and millions arrived.

The product of a decade of research and writing, Finding Florida is a highly original, stylish, and masterful work, the first modern comprehensive history of this fascinating place.
About the Author
T.D. Allman is the author of "Miami: City of the Future," and "Rogue State: America at War with the World." A native Floridian, Harvard graduate, and former Peace Corps volunteer in Nepal, Allman was for many years the foreign correspondent of "Vanity Fair," and is credited with uncovering the CIA's "secret war" (a phrase he coined) in Laos. He has written about Florida for "Esquire" and "National Geographic," and his work has appeared in "The New Yorker, The New York Times, The Washington Post, Harper's, The New Republic, Rolling Stone, The Guardian, Le Monde, " and "The Economist," among other publications. He divides his time between Miami, New York, and the south of France.
Praise For Finding Florida: The True History of the Sunshine State…
Gripping."Steve Yoder, Salon.com

A magisterial rip at the state's invaders, conquerors and rulers."Mark I. Pinsky, Orlando Magazine

"Allman's engaging, eye-opening, and heavily researched history of Florida spans half a millennium, from the myth of Ponce de León's Fountain of Youth to the 2012 shooting of 17-year-old Trayvon Martin, and it is a fulsome cavalcade of would-be conquistadors, epically corrupt and racist politicians, and oligarchwannabes." -Booklist

"An immense and important work." Maud Newton, Bookforum

"I loved Allman's extraordinary book. Almost every county in Florida bears the name of a butcher, a slavedriver, a madman, a scoundrel or a thief, in a state where for half a millennium the governing mandate seems to be Defeat the Truth, Triumph over Reality. T.D. Allman's counter-narrative to all the pretty lies is a scouring hurricane of research, investigation, and soul-cleansing wrath, and I doubt there has ever been a better, or more important, book written about the Sunshine State, the birthplace of imperial hubris, American-style." Bob Shacochis, author of The Immaculate Invasion

"Equal parts social analysis, historical review, and jeremiad, Finding Florida is a passionate, often scathing, and remarkably comprehensive encounter with a confounding, contradictory, and ever-elusive place. If your idea of hell is being chained to a galley oar between a politician and a Chamber of Commerce exec, then you are likely to love this book." Les Standiford, author of Last Train to Paradise

Manuscripts repeatedly find their way into print that ignore the reality of Florida's past and, in so doing, skew our understanding of what Florida has been, what it is now, what it's likely to become, and what that means for everyone. T. D. Allman's book turns all that on its head. It directly challenges the existing historiography with highly intelligent insight and crafting of narrative in a way that permits the reader to immerse himself in a world far from the expected one. Finding Florida is provocative to the point of daring. Thomas Jefferson claimed a little revolution was needed about every twenty years. Florida and its historiography is long overdue for one." Canter Brown, Jr., Professor of History, Fort Valley State University

An extraordinary tome . . . Finding Florida offers a history lesson that is long overdue The Birmingham Times

For the general reader, Finding Florida is a catalyst for hearty discussions and more reading."Authentic Florida

Finding Florida is fascinating, comprehensive, and accessible to the non-specialist reader. While Allman covers an enormous amount of materialtaking Florida from uninhabited swampland to the sidewalk culture of South Beachhe does so in such engaging ways that the reader is never overwhelmed. Indeed, each chapter is in itself a satisfying and illuminating narrative, stock full of vivid characters. Somehow he has managed to pull together a compelling read without sacrificing historical substance, a feat to which many professional historians aspire. His wry voice conveys a point of view that gently pushes readers to understand Florida as an American synecdoche." Glenda Gilmore, Peter V. and C. Vann Woodward Professor of History, Yale University
Advertisement