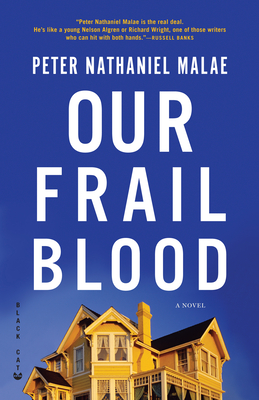 Our Frail Blood
Paperback

* Individual store prices may vary.
Description
Malae is like a young Nelson Algren or Richard Wright, one of those writers who can hit with both hands. --Russell Banks By way of Italy, the Felice family puts down new roots in Southern California, settling into a grand Victorian home and buying a share of the great American Dream. But for their five, first-generation children, an idyllic childhood didn't quite translate into success and happiness. Rather, the pressures of living up to expectations drove a wide rift through the family. After decades apart, the five siblings find themselves together again at their ailing mother's bedside, caught in a deadlocked feud over her hospice care. Into the morass steps Murron Teinetoa, one of their bastard children, who carries an idealistic hope of finally fitting in among her estranged relatives. In an interweaving narrative, Malae portrays the Felices in their formative years of the fifties; he excavates the personal lives of the siblings in the eighties and nineties; and he follows Murron in the present as she raises her son as a single mother. A powerful and fiery multi-generational story, Our Frail Blood captures the beauty and horror, the strength and fragility, the selfishness and love comprising the threads of familial bonds.
Praise For Our Frail Blood…
"The novel's heart is true . . . Malae is at his best: depicting the throbbing pain and joy of an American family." Publishers Weekly

"The turbulent story of the Felice family . . . speaks to the weaknessesour frail bloodthat so many of us share . . . a thoughtful work." Kirkus Reviews

"Like Jonathan Franzen's The Corrections, Malae's story wrestles with the individual problems of each family member and places them in stark relief to one another. From international adoption to the AIDS crisis, no family member is immune to the emotional pain that living in a complex world brings. For readers who enjoy richly textured family sagas, this is a must-read." Booklist

"A brilliant, heroically Catholic novel. Dense, Proustian in its savor of the quality of time and its lost chances." Dennis Haritou, Three Guys One Book

"'America is a land of the pocket, not of the blood.' This Sicilian proverb, a warning to all immigrants, could serve as an epitaph for the Felice family, whose collective tragedy forms the story of Our Frail Blood. This magnificent novel depicts dysfunction and dissolution across three generations. Don't expect the usual immigrant saga about enduring tradition and redemptive assimilation. Malae taps an underground reservoir of grief and rage beneath our multicultural democracy that finally explodes in a terrible geyser." Anthony DiRenzo, author of Bitter Greens
Grove Press, Black Cat, 9780802120786, 448pp.
Publication Date: February 26, 2013
About the Author
Peter Nathaniel Malae is the author of What We Are, a New York Times Editors' Choice, and the story collection, Teach the Free Man, a finalist for the New York Public Library Young Lions Fiction Award and a notable book selection by Story Prize. Winner of the San Francisco Foundation/Intersection for the Arts Joseph Henry Jackson Award, Malae is a former Steinbeck, MacDowell, and Arts Council Silicon Valley Fellow. He lives in the Pacific Northwest.