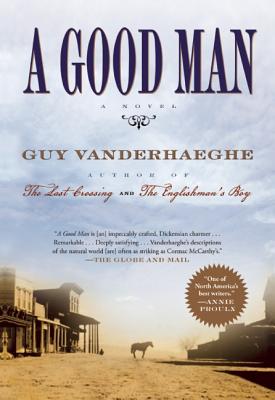 A Good Man (Paperback)
Grove/Atlantic, Inc. - Grove/Atlantic, Inc. -, 9780802120809, 464pp.
Publication Date: January 15, 2013
Other Editions of This Title:
Hardcover (1/3/2012)
* Individual store prices may vary.
Description
Vanderhaeghe is] the best all-round novelist at work in Canada today. . . A Good Man is the kind of impeccably crafted, Dickensian charmer we have come to expect from Vanderhaeghe. . . . Remarkable . . . Deeply satisfying . . . Vanderhaeghe's descriptions of the natural world are] often as striking as Cormac McCarthy's. . . . A towering achievement worthy of celebration as loud as our humble voices can declare.--The Globe and Mail Best-selling author Guy Vanderhaeghe's final installment in his frontier trilogy is at once a riveting account of personal and historic revenge, and the endearing story of an unlikely love affair. Wesley Case, a former soldier and the son of a Canadian lumber baron, sets out into the untamed borderlands between Canada and the United States to escape a dark secret from his past. He settles in Montana where he hopes to buy a cattle ranch, and where he begins work as a liaison between the American and Canadian militaries in an effort to contain the Native Americans' unresolved anger in the wake of the Civil War. Amid the brutal violence that erupts between the Sioux warriors and U.S. forces, Case's plan for a quiet ranch life is further compromised by an unexpected dilemma: he falls in love with the beautiful, outspoken, and recently widowed Ada Tarr. It's a budding romance that soon inflames the jealousy of Ada's quiet and deeply disturbed admirer, Michael Dunne. When the American government unleashes its final assault on the Indians, Dunne commences his own vicious plan for vengeance in one last feverish attempt to claim Ada as his own. Vanderhaeghe expertly weaves a gritty account of the end of the Wild West with an intimate tale of love, retribution, and rebirth. Beautifully imagined and deeply moving, A Good Man is Vanderhaeghe's triumphant conclusion to his venerated turn-of-the-century epic.
About the Author
Guy Vanderhaeghe was born in Saskatchewan in 1951. He is the author of six books of fiction, including "The Englishman's Boy," which won the Governor General's Award for Fiction and the Saskatchewan Book Award for Fiction and for Best Book of the Year; and the bestseller, "The Last Crossing," a Book Sense 76 Selection and winner of Canada Reads 2004 and the CBA Libris Award for Best Fiction Book of the Year.
Praise For A Good Man…
"A brisk western . . . [about] the collision of lives on the harsh edge between the wild and the settled. . . . A cohesive high-stakes drama."Publishers Weekly

"Vanderhaeghe is often compared to Larry McMurtry, and rightfully so, for his muscular prose readily conveys not only the nuanced love story but also the rugged beauty of the western landscape and the chaotic battle scenes that haunt his protagonists."Joanne Wilkinson, Booklist

"Heartbreaking . . . Stunning . . . In its melding of character, plot, and history, A Good Man is an extraordinary novel, unquestionably the trilogy's crowning achievement."Katherine A. Powers, Barnes and Noble Review

"[Vanderhaeghe is] the best all-round novelist at work in Canada today. . . A Good Man is the kind of impeccably crafted, Dickensian charmer we have come to expect from Vanderhaeghe. . . . Remarkable . . . Deeply satisfying . . . There are, characteristically, bountiful and varied pleasures to be had in A Good Man. . . . Vanderhaeghe's descriptions of the natural world [are] often as striking as Cormac McCarthy's. . . . A Good Man caps a towering achievement worthy of celebration as loud as our humble voices can declare."Andrew Pyper, The Globe and Mail

"Vivid . . . A love story, a thriller, a Conradian meditation on courage and manhood, and a thoughtful examination of the origins of Canada's tangled relationship with its big southern neighbor. . . . Vanderhaeghe has delivered an epic that matches its grand ambitions."Bob Armstrong, Winnipeg Free Press

"A rollicking story as large as the prairie is wide . . . The story unfolds with consistent charm and erudition." Michael Bryson, Quill & Quire

Part Western, part historical epic, part romantic melodrama and part crime novel . . . The descriptions of the cold, hard Prairie and the difficult life of its inhabitants are rendered with palpable longing for a bygone era."Tod Hoffman, Montreal Gazette

"Guy handles violence, or if you prefer 'action,' better than anyone in [Canada]. . . . This is a thoughtful book."Douglas Gibson, CBC Books