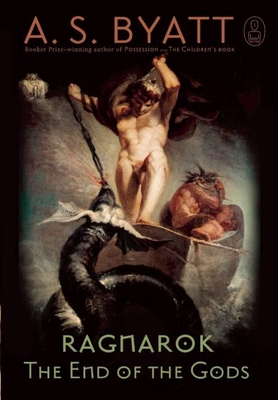 Ragnarok
The End of the Gods
Paperback

* Individual store prices may vary.
Other Editions of This Title:
Digital Audiobook (2/6/2012)
Digital Audiobook (9/14/2011)
Description
Brilliantly effective. . . . Surely among the most beautiful and incisive [pages] Byatt has ever written."Paul Binding, The Independent (UK)

A brilliant, highly intelligent, fiercely personal rendition of the Scandinavian mythology. . . . A gorgeous enrichment and interpretation."Ursula K. Le Guin, Literary Review (UK)

The gods meet their cataclysmic end in this acclaimed work of fiction from the inimitable author of Possession and The Children's Book, now in paperback.

As the bombs of the Blitz rain down on Britain, one young girl is evacuated to the countryside. She is struggling to make sense of her new life, whose dark, war-ravaged days feel very removed from the peace and love being preached in church and at school. Then she is given a copy of Asgard and the Godsa book of ancient Norse mythsand her inner and outer worlds are transformed. She feels an instant kinship with these vivid, beautiful, terrifying tales of the end of the gods: they seem far more real, far more familiar during these precarious days.

How could this child know that fifty years on, many of the birds and flowers she took for granted on her walks to school would become extinct? War, natural disaster, reckless gods, and the recognition of the world's impermanence are just some of the threads that Byatt weaves into this most timely of books. Linguistically stunning and imaginatively abundant, Ragnarok is a landmark piece of storytelling from one of the most brilliant minds and speakers of our generation" (The Independent).
Canongate Us, 9780802120847, 177pp.
Publication Date: March 26, 2013
About the Author
A.S. Byatt is an internationally acclaimed novelist, short-story writer and critic. Her books include the Booker Prize-winning "Possession," as well as "The Children's Book" and the quartet of "The Virgin in the Garden," "Still Life," "Babel Tower," and "A Whistling Woman." She was appointed Dame of the British Empire in 1999 and has been awarded numerous prizes, including the Commonwealth Writers' Prize, the PEN/Macmillan Silver Pen award, and the "Irish Times" International Fiction Prize. She lives in London, England.